Vietnam's publications on display at 17th Venezuela International Book Fair
Publications of Vietnam are being showcased at the 17th Venezuela International Book Fair (FILVEN 2021) as Vietnam is the event's guest country of honour at the invitation of Venuezuelan President Nicolás Maduro.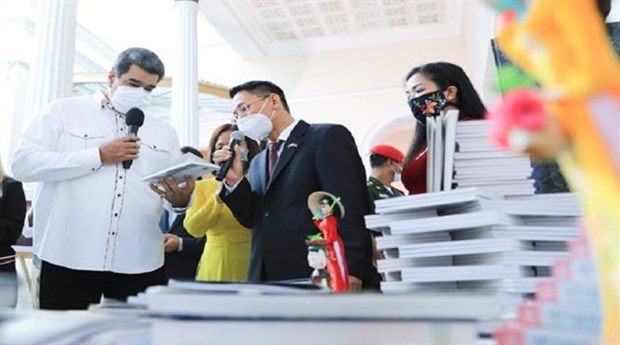 Venuezuelan President Nicolás Maduro (L) and Vietnamese Ambassador Le Viet Duyen at the book fair (Photo: VNA)
The FILVEN 2021 is viewed as the most outstanding cultural event of Venezuela this year with more than 800 in-person and online activities.
The Vietnamese embassy has worked to introduce various books to promote the country's long-standing tradition, cultural identity and achievements to international friends, including those penned by Party General Secretary Nguyen Phu Trong and late General Vo Nguyen Giap.
Visiting Vietnam's pavilion, Venezuelan President Maduro said people of the Latin American nation have shown an interest in history, culture and development of Vietnam, hoping that more Vietnamese books will be translated into Spanish.
In reply, Vietnamese Ambassador to Venezuela Le Viet Duyen said the FILVEN 2021 and participation of the Vietnamese embassy are a hallmark in the countries' solidarity and friendship and offer Vietnam an opportunity to introduce its culture and history to the Venezuelan people.
At the book festival, the embassy will arrange events to introduce books and online exchange programmes featuring Vietnamese authors and experts on literature, publishing and Vietnam's Doi moi (Renewal) process.
Musical performance, Vietnamese movies and famous dishes will be highlights of the festival, which runs until November 14./.
VNA