Vietnam's U23 footballers ready for last match at Doha Cup
Coach Philippe Troussier has encouraged the U23 team of Vietnam to show their best possible performance in the last match at Doha Cup 2023, against Kyrgyzstan, on early March 29 (Vietnam time).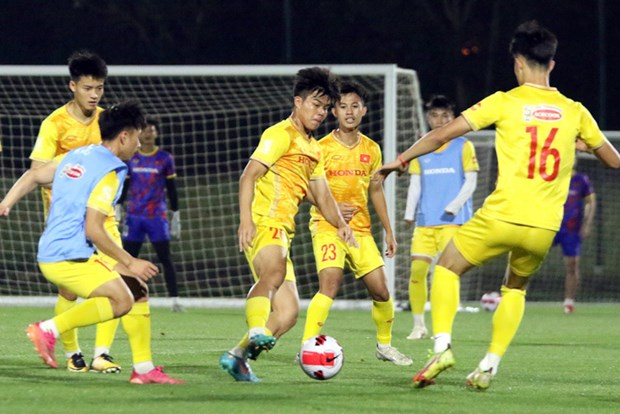 U23 players of Vietnam in a training session (Source: Vietnam Football Federation)
In the last training session ahead of the match, Troussier instructed his players to address the weaknesses revealed in the two previous games and gave them spiritual support.
He admitted that the losses of 3-0 to Iraq and 4-0 to the UAE at the friendly tournament gave the team precious lessons during the preparation for the 32nd Southeast Asian Games (SEA Games), slated for this May in Cambodia.
The French coach said the players have been training hard to gear up for the 32nd SEA Games, adding that they performed well in the first half of the game against UAE, one of the six strongest teams in Asia, on early March 26 (Vietnam time).
Such matches showed that Vietnam's U23 team are able to narrow the gap with others in the near future, he noted.
The game between Vietnam and Kyrgyzstan is scheduled to kick off at 0:30am on March 29 (Vietnam time), or 8:30pm on March 28 (Doha time).
Vietnam's U23 footballers used to beat Kyrgyzstan 3-0 in a friendly in 2021 and 1-0 at the 2014 Asian Games (ASIAD)./.
VNA