Vietnam works hard to boost exports to Chinese market
Vietnam earned 8.2 billion USD from exports to China in the first two months of 2023, posting a year-on-year increase of 4.2%, the Ministry of Industry and Trade (MoIT) has reported.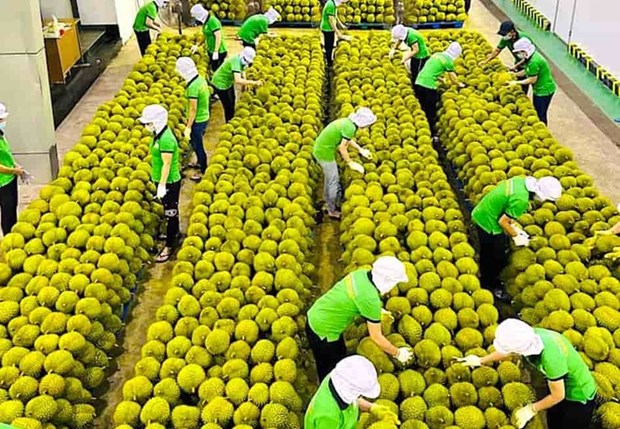 Checking the quality of durians for export to China (Photo: qdnd.vn)
China is the main importer of many Vietnamese products. Therefore, China's market re-opening from January 8 brings great expectations to Vietnamese businesses, especially those exporting vegetables, fruits, seafood, fiber, cement, rubber, steel, textiles, and rice.
According to Vietnam Fruit Vegetables Association (VinaFruit) General Secretary Dang Phuc Nguyen, China's restoration of customs clearance is good news for Vietnamese fruit and vegetable exporters, and helps import-export activities between the two countries gradually become bustling again.
However, he also reminded Vietnamese businesses to make careful preparation when resuming their exports to this important market because China has applied new and strict regulations for imported goods.
To Ngoc Son, deputy head of the MoIT's Asia-Africa Market Department, said Vietnam should concentrate on measures to further promote exports to China through official channels.
He recommended that localities and management agencies focus on mapping out sector-targeted development strategies in parallel with building brands and concentrated and large-scale production and specialised farming areas based on market signals.
Businesses also need to regularly update, get a better understanding of and comply with China's regulations related to quality standards, testing, quarantine, packaging, and traceability; and pay attention to building and protecting their brands, and studying the demand and development trends of the market, Son said.
To fully tap opportunities, the MoIT has directed units to comprehensively evaluate China's reopening policy, thus taking solutions to support enterprises.
Localities have been demanded to effectively regulate the customs clearance of import-export goods at the border gates between Vietnam and China, especially for agro-aquaculture products, and promote exports through official channels.
The ministry and relevant state management agencies have enhanced information sharing and set up hotlines to help remove difficulties facing businesses, and support them in taking part in exhibitions in China, said Vu Ba Phu, Director of the MoIT's Trade Promotion Agency.
Vietnam welcomes delegations of Chinese businesses which want to seek trade cooperation opportunities and partners in Vietnam, he affirmed./.
VNA