Businesses and cooperatives sign more contracts to consume agricultural products
According to the Department of Industry and Trade of Long An province, in conferences connecting the supply-demand of goods between Ho Chi Minh City and the provinces and cities in 2019, the Department has organized for businesses and cooperatives to promote as well as consume their goods to consumers.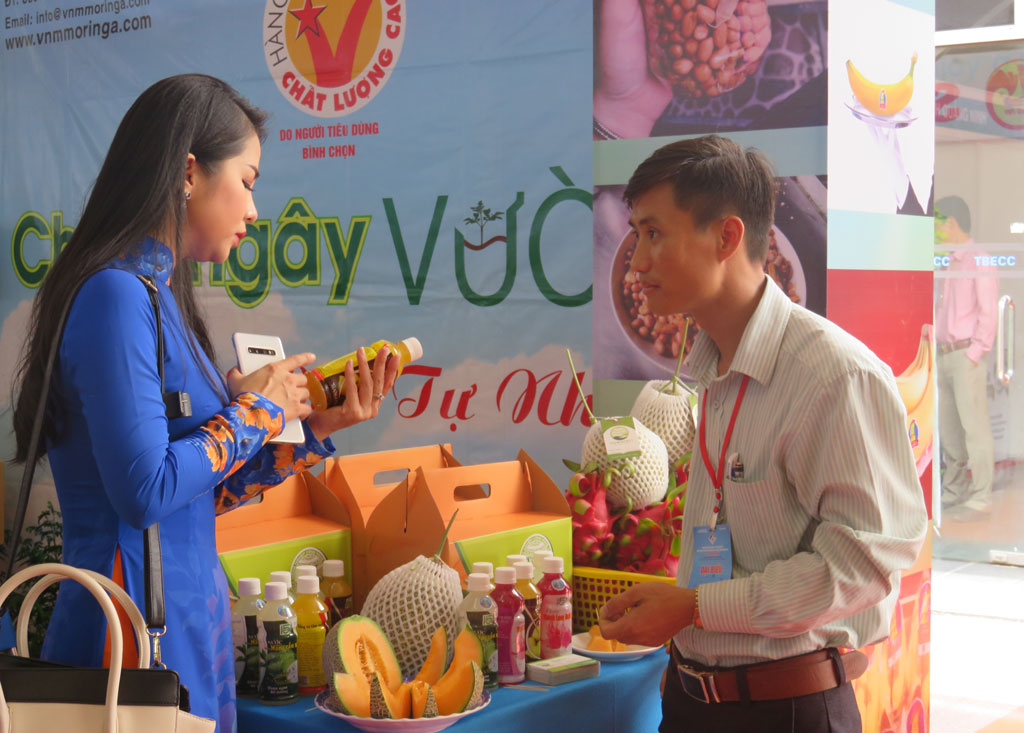 Customers visit the agricultural product stall of enterprises and cooperatives in Long An
Accordingly, many products are favored by consumers such as Huu Loc peanuts, safe vegetables, melon, safe rice, etc. As a result, the businesses and cooperatives in the province signed 21 memorandums and principle contracts with businesses in Ho Chi Minh City such as Saigon Co.op, Dong Hung Integration and Development Co, Ltd. (Aeon Citimart), Vincommerce General Trading Service Joint Stock Company (VinMart), Saigon Trading Corporation (Satra), and so on.
Up to now, the businesses and cooperatives in the province have signed nearly 200 contracts to supply goods to businesses in other provinces and Ho Chi Minh City (of which, 133 contracts have been signed with businesses in Ho Chi Minh City).
For many years, the Department of Industry and Trade has supported the businesses and cooperatives in the province to join the supply-demand connection program, to actively promote and sell goods, especially safe agricultural products. In particular, many contracts have maintained stability and increased in quantity of goods. The businesses and cooperatives have focused on producing high-quality goods and ensuring food safety, contributing to meeting the consumption needs of people in Ho Chi Minh City, provinces and cities nationwide and export standards.
However, many businesses and cooperatives still have obstacles that need to be solved properly. Specifically, some businesses and cooperatives have not bravely signed contracts to supply large quantities of goods because of their small-scale production. Besides, the quality and size of agricultural products have not met the requirements of the buyers.
Therefore, in the coming time, the businesses and cooperatives should focus on organizing production in order to ensure the quantity, product conditions and standards (food safety, pre-processing, packaging, design, etc). In addition, they should connect with each other to have a focal point of delivery, negotiation and creating a reputation in signing consumer contracts./.
By Mai Huong - Translated by Pham Ngan
Source: http://baolongan.vn/doanh-nghiep-hop-tac-xa-ky-ket-them-nhieu-hop-dong-tieu-thu-nong-san-a83520.html