Local rice industry needs technology in preservation, processing
The application of advanced technology in preservation and processing is the most important factor in Vietnam's rice value chain, said Nguyen Hong Son, Director of the Vietnam Academy of Agricultural Sciences under the Ministry of Agriculture and Rural Development (MARD).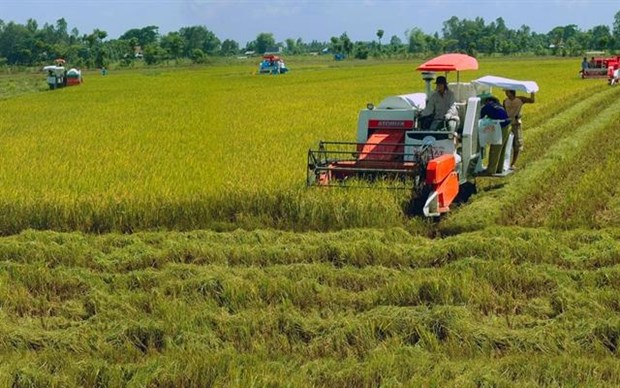 The application of advanced technology in preservation and processing is the most important factor in Vietnam's rice value chain. Photo danviet.vn)
This field had the potential for strong development in the domestic rice production industry, especially enterprises in the domestic rice production chain, he said.
MARD had employed specific programs and action plans to attract investment in this field, especially investment opportunities from free trade agreements that Vietnam has signed with other countries.
"Foreign rice processing and preservation technology enterprises are expected to pay more attention to the Vietnamese market and cooperate with domestic manufacturing enterprises to promote technology to increase efficiency and quality in local rice production," Son said at the annual Vietnam Rice Value Chain Development Workshop 2019 held in Can Tho last week.
Nguyen Chanh Trung, the Tan Long Group's Managing Director in rice and rice factory, said in its rice production chain, it cooperated with farmers in production and then purchased rice from farmers. After that, it used modern technology and machines for drying and storage of rice, meeting the requirements to have high-quality products for high-demanding markets such as the Republic of Korea, as well as the domestic market.
The company also guided the farmers to gradually switch from the old farming model to organic rice production, Trung said.
Rice is a key export product of Vietnam, with export volume ranging from 4.9 to 7.7 million tonnes per year. The export value of rice has always reached over 2 billion USD per year and it even reached a record of over 3 billion USD last year, according to MARD.
Now, Vietnam is the third-largest rice exporter in the world, accounting for about 15 percent of the total rice export volume. Vietnamese products have been exported to about 150 countries and territories.
Tran Thanh Hai, Deputy Director of the Ministry of Industry and Trade's Import and Export Department, said in the first eight months of this year, Vietnam's rice export volume reached 5.4 million tonnes, up 0.1 percent but the rice export value dropped by 15 percent year on year to 1.96 billion USD.
Vietnam's rice exports to China decreased by 63 percent in volume and 67 percent in value. In addition, the rice exports to other countries also saw strong reduction, such as Indonesia (down 96 percent), Bangladesh (down 75 percent) and Algeria (down 55 percent).
However, the Philippines market has emerged as a bright spot in Vietnam's rice export activities to help the national total rice exports rise in the first eight months.
In the January-August period, Vietnam exported nearly 1.5 million tonnes of rice to the Philippines, an increase of more than 200 percent year on year, accounting for 37 percent of Vietnam's rice exports.
This year, the export value of fragrant rice, specialty rice, and organic rice has increased in number, increasing the value of export rice.
However, the application of advanced technology in rice production, processing and preservation are still very limited for the domestic rice production chain. This has created a significant impact on the quality and price of Vietnamese export rice compared to similar products of major rice exporting countries such as Thailand and India, according to MARD.
"In recent years, many businesses have invested in high-quality products from design and appearance to good quality of rice as well as maintain a high quality of rice during storage and trading. However, the number of producers doing that is not many compared to the large rice export volume," Son said.
Therefore, the application of advanced technology in preservation and processing is very important in Viet Nam's rice value chain to increase to meet the strict requirements of major rice export markets, he said.
Do Ha Nam, Vice Chairman of Vietnam Food Association, Chairman of Board of Directors and General Director of Intimex Group said to have sustainable development in Vietnam's rice production industry, it was necessary to choose high-value products like Jasmine rice.
On the other hand, local rice producers needed to renew technical production and equipment to not lose the market. They also must manage food safety and hygiene, chemical products and post-harvest preservation to overcome the increasing technical barriers of developed countries, he said.
At the seminar, many businesses introduced global advanced technologies in rice production and processing as well as practical experience in applying technology to rice production and processing stages./.
VNA