Ministry mulls auto parts tax cut
The Ministry of Finance has promised to study and report to the Government recommendations by the Vietnam Association of Mechanical Industry (VAMI) on policies to promote domestic automobile production.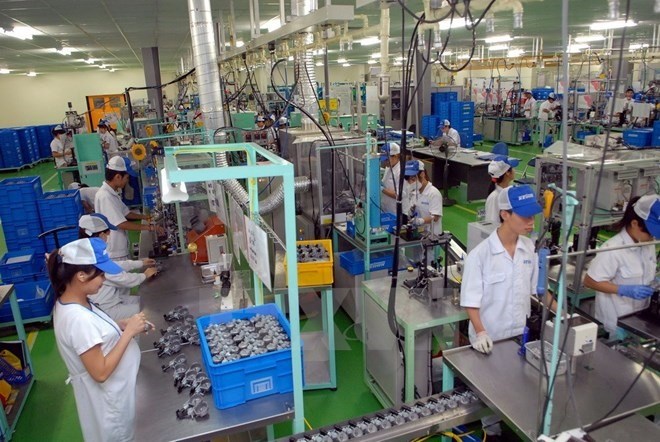 An auto part production line at Thang Long Industrial Park in Hanoi (Photo: VNA)
The promise was the ministry's first action in response to the association's series of proposals including a cut in special consumption tax on locally-produced parts, a reduction or exemption of import duties on materials used to produce parts and components as well as an extension to the duration of tax payment guarantees.
The change in the special consumption tax on locally-produced parts could violate the World Trade Organisation commitment, according to experts from the finance ministry. Thus, it is necessary to review and evaluate the implementation of tax laws including special consumption tax and value-added tax. It will submit to the National Assembly amendments and supplements to the laws.
A representative of Hyundai Thanh Cong Company was quoted by online newspaper plo.vn saying exemptions from special consumption tax for locally-produced auto parts have been applied in Southeast Asian countries such as Malaysia and Indonesia for a long time.
This is to encourage their domestic auto industries to invest in parts and components production and to increase locally produced products.
Chairman of the Truong Hai Automobile Joint Stock Company Tran Ba Duong said the exemption would not only facilitate localisation but also create more advantages to offer competitive prices and benefit customers.
Related to the petition to reduce the import tax on materials for parts and component manufacturers, the ministry asked VAMI to provide details of materials that are not domestically available and must be imported. The ministry would co-ordinate with the relevant agencies to study the handling plan and report to the Government for consideration.
Currently, the auto producers and manufacturers in Vietnam have to pay material import tariffs of 15-25 percent, which is one the reasons why auto production costs in the country are higher than those in Thailand and Indonesia, online newspaper plo.vn reported.
As for the VAMI's proposal to extend the duration of tax payment guarantee, which is a maximum 30 days from the date of customs declaration, the ministry said it will consider amending the Law on Export and Import Duties.
According to the latest statistics from the General Department of Customs, Vietnam spent 78.5 million USD on importing auto parts and components last week from April 13 to April 19.
The imports from Japan were worth 20.9 million USD, from the Republic of Korea 15.7 million USD, from China 14.6 million USD, from Thailand 11.2 million USD and from Germany 6.5 million USD, respectively.
The import of auto parts and components from the five markets occupied 88 percent of the country's total auto parts and components imports./.
VNA