More US firms invest in Vietnam
More firms from the United States have come to Vietnam to invest in projects nationwide and study the Southeast Asian country's market to have an in-depth understanding of how the market works.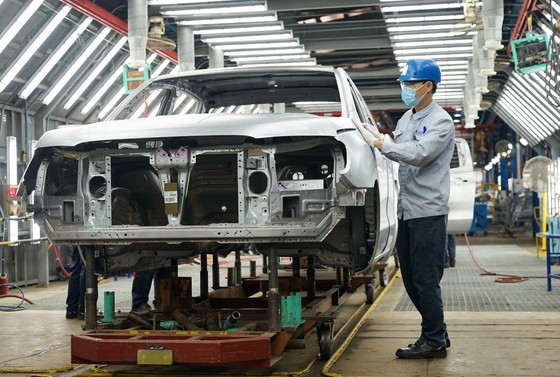 A Vietnamese employee at Ford Company
With nearly 1,300 valid investment projects in Vietnam, the US is currently ranked 11th among countries and territories investing in Vietnam not to mention the large amount of money that the US poured into Vietnam through third countries.
In 2006, Intel Corporation's decision to invest in Vietnam marked an important milestone, contributing to putting Vietnam's name on the global information technology and electronics map.
After 16 years of operation, Intel has invested nearly US$1.5 billion in the Southeast Asian country, including $475 million being invested from June 2019 to December 2020 to strengthen the development and production of 5G and Intel Core processor hybrid technology products.
Intel Products Vietnam also helps create more than 6,500 jobs in the high-tech sector, including about 2,400 Intel employees. Particularly in the first quarter of 2023, this group contributed 50 percent of the total export turnover to Saigon Hi-Tech Park (SHTP) and 15 percent of the export turnover of electronic components of the country.
Cargill Vietnam went into operation in February 1995 and was the first American company to be granted a license to distribute goods directly in Vietnam. Over 27 years of operation in the country, Cargill has invested hundreds of millions of US dollars, building 11 animal feed processing factories across the country and a product distribution center in the Mekong Delta City of Can Tho, hiring about 1,400 employees.
This corporation has contributed to projects to improve educational infrastructure for Vietnamese children outcomes in addition to sponsoring hundreds of schools in 53 provinces and cities and more than 17,000 children in rural, remote and isolated areas.
Coca-Cola Beverage Group was operated in Vietnam in 1994 and currently has 3 factories located in Ho Chi Minh City, Da Nang and Hanoi bringing 2,000 jobs for Vietnamese employees.
Besides, many other US enterprises such as GE Vietnam, P&G, Kimberly Clark, Crown Cork, and 3A Nutrition are currently operating effectively in Vietnam. Amkor Technology Inc. - a global semiconductor product packaging and test services provider - also planned to put a new factory in the Northern Province of Bac Ninh into operation by the end of this year which has an investment of $500 million in the first phase.
Many more optimistic signals emerged last March when more than 50 US businesses in many new fields such as healthcare, aerospace, digital economy, e-commerce, and retail came to Vietnam to do market surveys. They included leaders from Lockheed Martin, SpaceX, and Netflix.
Moreover, Boeing opened a new office in Hanoi in May 2023, just 2 months after the group's leaders joined the business delegation to Vietnam.
Senior Vice President of Boeing Group and President of Boeing Global Brendan Nelson affirmed that Boeing will fully support the development of Vietnam's aerospace industry, making efforts to develop the supply chain in Vietnam. The group also considered the proposal to set up an aircraft repair and maintenance center in this country./.
By Anh Thu - Translated By Anh Quan(SGGP)