Organic production contributes to environmental protection
Agricultural production associated with environmental protection is the trend of modern agriculture. This clean production method is now encouraged by the Agriculture sector of Long An province to be applied and replicated.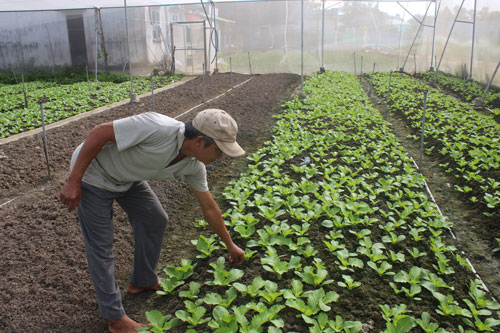 Growing organic vegetables contributes to reducing harm to the environment
Mr. Dang Van Tong's organic vegetable growing model (Long Gieng hamlet, Phuoc Hau commune, Can Giuoc district) has an area of more than 4,000 square meters, growing vegetables such as mustard greens, collard greens, green onions, herbs, etc. Right from the start of growing vegetables, Mr. Tong determined not only to pay attention to economic benefits but also to ensure safety factors. Therefore, instead of using chemical fertilizers to stimulate the growth of vegetables, he invested in a greenhouse system and an automatic irrigation system to build an organic agricultural model.
According to Mr. Tong, for conventional agricultural production, pesticides, after being put into use, in addition to being absorbed into the plants, a part of it will be absorbed through the soil, most of which will follow the rain and drift down to the rivers, canals and canals affect water sources for daily life and production of surrounding people. For the process of growing organic vegetables, completely "say no" to chemicals, only use organic fertilizers combined with probiotic treatment to fertilize vegetables. Therefore, it is not only safe for users but also protects the environment and water sources. Currently, each month, Mr. Tong supplies the market with 2.5 - 4 tons of vegetables of all kinds, although the output is not equal to that of normal production, but the selling price is higher from 5,000 - 10,000 VND per kilo.
It is known as a successful unit with VietGAP dragon fruit production, Thanh Phu Long Agricultural Cooperative, Chau Thanh district is also one of the leading units in creating clean and safe products. Chairman of the Board of Directors of Thanh Phu Long Agricultural Cooperative - Nguyen Quoc Trinh said that the cooperative produced dragon fruits by traditional methods in the past. However, dragon fruit is not favored by customers and it is difficult to get long-term consumption association contracts. The main consuming markets are still easy-going markets and do not have too high requirements for products such as China and Taiwan. And the price of dragon fruit will decrease and farmers will lose money when it is difficult to export to these markets.
Currently, the cooperative has nearly 60 hectares of dragon fruit, most of which are produced in a clean direction and partially applied high technology. In which, there are 3 hectares of organically produced dragon fruit and now these 3 hectares have been completely consumed at the price of 25,000 VND per kilo. Although this price is not high, thanks to organic production, farmers can reduce input costs, so profits are still guaranteed.
According to the Provincial Department of Crop Production, Plant Protection and Quality Control of Agricultural Products, the use of pesticides in agricultural production is an indispensable factor. However, for the sake of profit, in the production process, many farmers have abused fertilizers, pesticides and growth stimulants to increase productivity and output. To overcome the above situation, over the past time, the Agriculture sector has propagated and raised the awareness of farmers. In particular, the change of production methods from traditional to clean, safe and sustainable agricultural forms such as VietGAP, GlobalGAP, organic agriculture and so on is being interested and promoted.
Nguyen Van Cuong, Director of the Provincial Sub-Department of Cultivation, Plant Protection and Quality Control of Agricultural Products - Nguyen Van Cuong said: "Over the past time, the province's agriculture sector has deployed and implemented many programs on developing hi-tech agriculture, organic agriculture to minimize the impact of pesticides on the environment.
At the same time, the Provincial Agriculture Department promotes propaganda and instructs farmers to properly use pesticides on the list of permitted pesticides and properly collect and handle drug packaging after use, raising awareness and responsibility of farmers in production, towards a sustainable and environmentally friendly agriculture".
By Bui Tung – Translated by Duc Tam
Source: https://baolongan.vn/san-xuat-huu-co-gop-phan-bao-ve-moi-truong-a127060.html