Policies, measures sought to boost Vietnam's film industry
An international workshop discussing policies and measures for the film industry's development in Vietnam and Southeast Asia was held in Hanoi on March 14.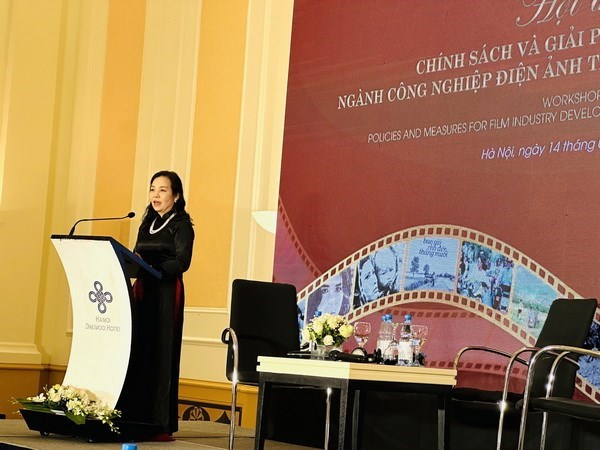 Chairwoman of the Vietnam Association of Film Promotion and Development Ngo Phuong Lan speaks at the workshop. (Photo: VNA)
The workshop, co-organised by the Vietnam Association of Film Promotion and Development (VAFPD), the Danish Embassy in Vietnam, and the United Nations Educational, Scientific and Cultural Organisation (UNESCO) Representative Office in Vietnam, was one of the activities to celebrate the 70th establishment anniversary of the Vietnam National Enterprise of Cinematography and Photography (March 15, 1953 – 2023) which is the precursor of the cinema and photography industries in Vietnam today.
Speaking at the workshop, VAFPD Chairwoman Ngo Phuong Lan said that the film industry is key to the development of the cultural industry.
The Law on Cinema, taking effect on January 1, 2023, creates a favourable legal corridor for the development of the country's film industry as the law determines that cinema is not only an art but an industry and an economic sector.
However, Lan said that specific appropriate mechanisms and policies are needed to realise the law, fully make use of the creative capacity of Vietnamese people and filmmakers, attract domestic and foreign investment in cinema, and encourage public-private partnership in film production and distribution.
According to People's Artist Dang Nhat Minh, the State's annual ordering and film production sponsoring facilitate the generation of many good films for the Vietnamese cinema. However, in the current context, the selection of films for state support must be conducted more carefully. Management agencies must organise competitions to choose good scripts, and good filmmakers, thus helping to create successful films.
Deputy Director of the Cinema Department Ly Phuong Dung said the private-public partnership in film production is studied by management agencies to create favourable conditions and promote the creation of quality cinematic works, thereby boosting the film industry's development.
At the workshop, film experts from Denmark, Indonesia, and Thailand shared experience in developing their film industries, attracting international investment, human resources training, and developing national cinema brands./.
VNA