Rubber industry needs better grip on competitiveness in int'l market
As the COVID-19 pandemic recedes, Vietnam's rubber industry faces challenges from both the world market and internal factors that hinder the industry's competitiveness. Finicky global markets are extremely competitive and well down the road of development, meaning Vietnam needs to catch up to keep pace.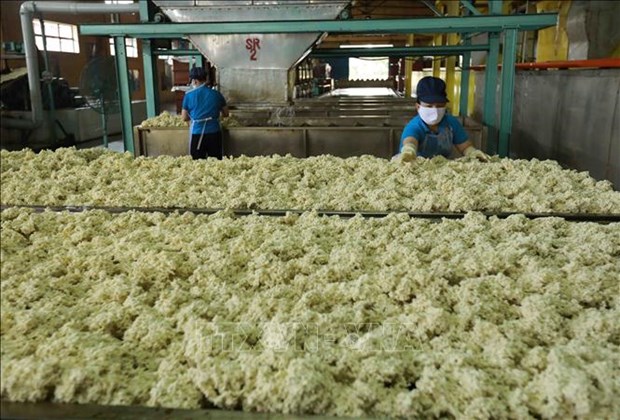 Rubber industry needs better grip on competitiveness in int'l market (Photo: VNA)
Tran Ngoc Thuan, Chairman of the Vietnam Rubber Association (VRA), said the competition between natural rubber producing and exporting countries will become more intense in terms of price, product quality, commercial reputation and the ability to meet increasingly stringent sustainability standards on demanding markets.
On the other hand, the structure and types of natural rubber in Vietnam still heavily rely on the Chinese market and only partially meet the needs of other, more finicky markets. This makes it difficult for market penetration in major markets such as the US, Japan, among others.
In addition, a disjointed national management system and policy mechanism such as tax declaration, value added tax, and high income taxation has caused difficulties for industry and business growth.
Meanwhile, according free trade agreements, natural rubber imported into Vietnam currently enjoys a tax rate of 0%, which will encourage businesses to prioritise choosing import markets from Thailand, Malaysia, and Indonesia. This will create competitive pressure with domestic rubber businesses.
The rubber product processing industry still faces difficulties in competing with imported products. There is still a lack of technical barriers in trade to prevent poor quality goods from being imported from other countries, causing losses to consumers and unfair competition with domestic goods.
Despite many difficulties and challenges, the VRA leaders said that the industry will also have many advantages in the coming time.
The association forecast that the world's natural rubber demand will be in a continuous uptrend. The gap between supply and demand will be a great opportunity for Vietnam to increase natural rubber production, export turnover, and create jobs for rural areas and related industries.

Tran Thanh Nam, Deputy Minister of Agriculture and Rural Development, said that in general, there are still many difficulties and challenges, the association needs to continue promoting its representative role while considering supporting members and businesses as an important factor contributing to promoting the sustainable development of the industry in the coming time.
According to the official, sustainable development has become stronger and Vietnam's rubber industry must focus on improving competitiveness in the world market on the basis of quality assurance in accordance with international standards.
Vietnam's rubber industry requires uniform quality management nationwide while increasing the application of advanced techniques, restructuring products according to market requirements, and expanding investment in processing. The formation of auxiliary industries is important, and at the same time, the sector must continue to promote the reorganisation of the industry according to the production value chain in order to improve competitiveness in the international market./.
VNA