Secretary of Long An Provincial Party Committee talks with businesses and cooperatives in Can Duoc
On July 30, Long An Provincial Party Committee Secretary - Pham Van Ranh, Vice Chairman of the Provincial People's Committee - Pham Van Canh had a dialogue with 14 typical businesses and cooperatives in Can Duoc district.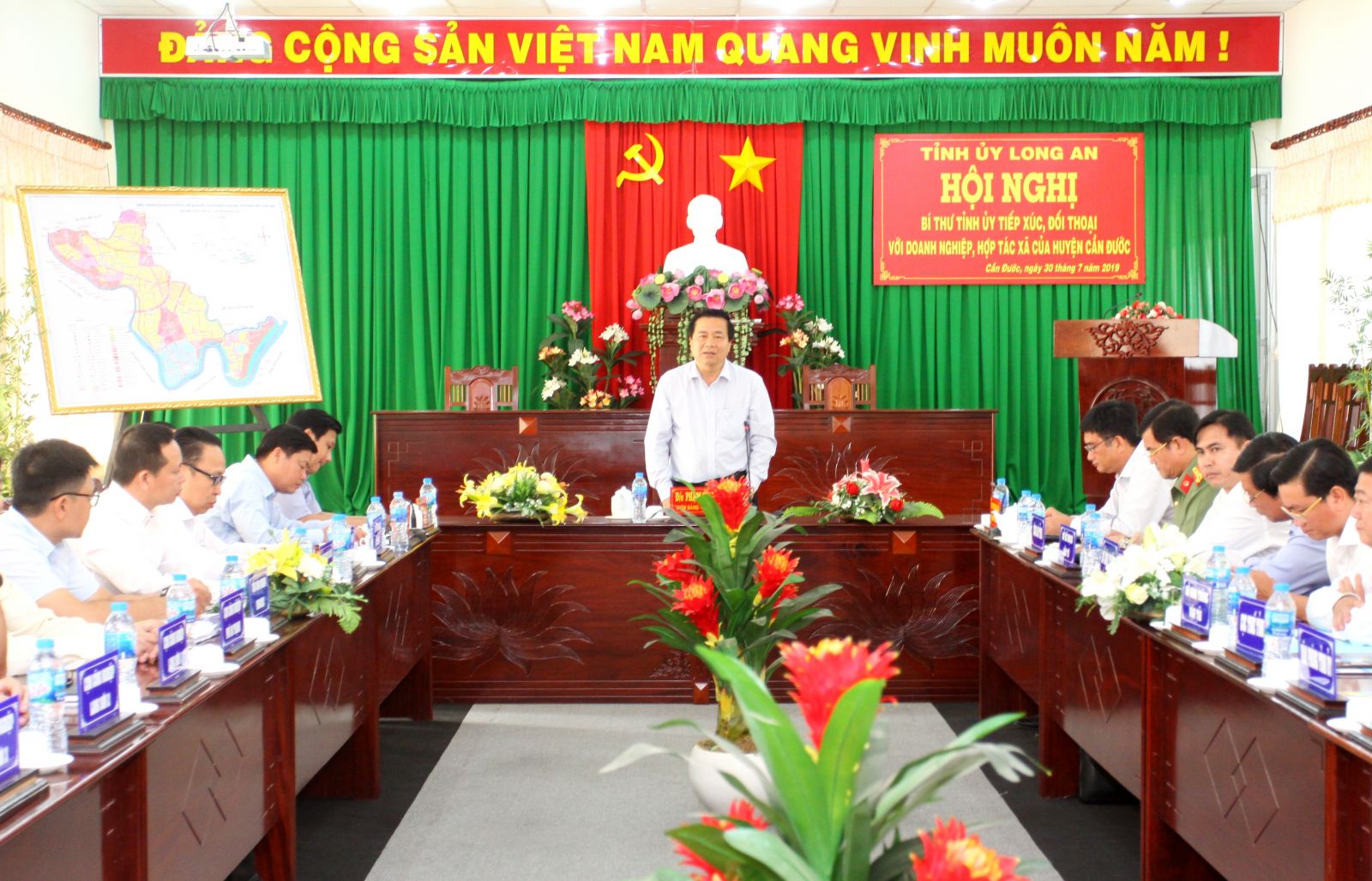 Secretary of Long An Provincial Party Committee talks with businesses and cooperatives in Can Duoc
At the meeting, Can Duoc District People's Committee reported the progress of implementing 4 industrial parks, 17 industrial clusters, residential and urban projects in the area. In general, the projects have completed site clearance; industrial parks have attracted secondary investors. However, many resettlement areas projects (more than 100 hectares) have not been compensated or cleared because the provincial People's Committee has been submitting to the Prime Minister for approval of the policy of changing rice cultivation purposes.
In the opinion of enterprises, at present, they face difficulties in the infrastructure of residential and urban areas, roads, compensation, site clearance, etc. They asked the province and district to support the procedures. At the same time, businesses are willing to support capital to invest in key roads of the district.
According to Provincial Party Committee Secretary Long An - Pham Van Ranh, Can Duoc is the key district in the province's economic development. In the coming time, he asked provincial departments and local leaders to actively promote their responsibilities in solving difficulties of enterprises and cooperatives; to create favorable conditions for them to develop.
For projects, the district should focus on planning on resettlement, transport infrastructure, and connecting infrastructure; preventing land speculation. Besides, the urban residential investment must be 10 hectares or more. Local leaders must strengthen the supervision to complete the schedule of key roads in the area (especially Provincial road 830B); focus on site clearance and compensation the section through the Provincial road 830.
Besides, the province will continue to improve the adjustment of administrative procedures in order to create an open, transparent and equal investment environment for enterprises and cooperatives to operate effectively./.
By Huynh Phong - Translated by Pham Ngan