Social enterprises need specific Gov't support policies: survey
A survey has found that 59 percent of social enterprises will cancel their support for disadvantaged groups to ensure their businesses survive if the global COVID-19 pandemic lasts until September this year.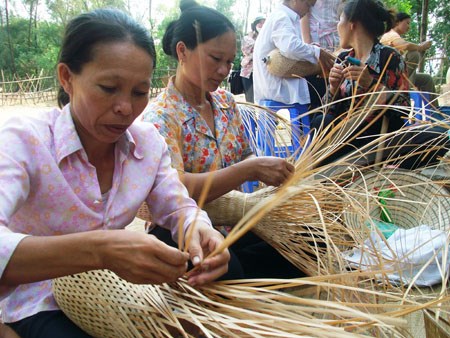 Poor people attend a vocational training class to learn how to make bamboo products in the southern province of Kien Giang (Photo: VNA)
A social enterprise is a humane business model used to solve specific social and environmental problems. Its purpose is to create jobs for disadvantaged groups, which includes people who lose the ability to work and live independently and live on social welfare and Government support.
The survey, conducted by the National Economics University's Center for Social Innovation and Entrepreneurship (CSIE) from April10-12, aimed to assess the impacts of COVID-19 on social enterprises, and then form recommendations. It involved 30 businesses in the fields of food, organic agriculture, vocational training, handicrafts and sustainable tourism.
It revealed that 68 percent of social enterprises were maintaining efforts to continue operations until the end of the second quarter of this year, while 38 percent said they would halt operations or go bankrupt if the pandemic lasted until the end of this year.
A CSIE report showed that Vietnam had about 1,000 social enterprises operating under the 2014 Law on Enterprise, and 21,000 social-impact businesses (SIB), which were small-scale with below 20 workers – accounting for 4 percent of Vietnam's total enterprises.
About 163,000 people working for social enterprises and 3.5 million people employed by SIBs who had not received support from their enterprises since the pandemic hit the country.
CSIE researchers asked the Government and State management agencies to recognise the social enterprises' important role in sharing the burden of social security and development within the country.
They recommended the Government give social enterprises access to a credit package of 62 trillion VND (2.65 billion USD) designed to support workers who have lost their jobs or been affected by the pandemic, with simplified procedures and detailed instructions.
The researchers said that international experience, including from the UK and the Republic Korea, showed that the Vietnamese Government has taken timely actions on social security for businesses and the public, but there was still a lack of policies specific to social enterprises.
In addition, it is needed to help social enterprises by calling on the community to buy their products or directly fund disadvantaged groups./.
VNA