Vietnam's import-export revenue rises 14.4 percent in four months
Total import-export revenue in the first four months of 2018 is estimated at 144.13 billion USD, up 14.4 percent year on year, according to the General Department of Vietnam Customs.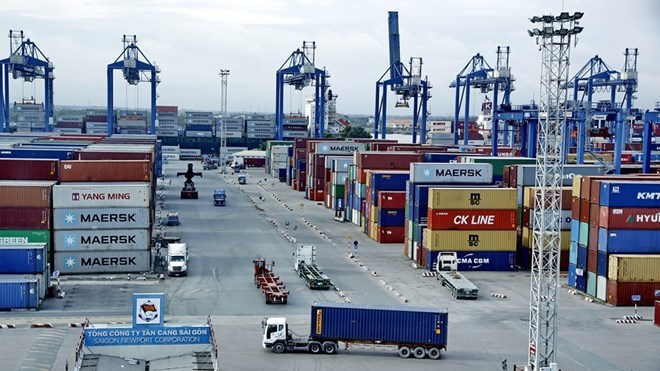 Illustrative image (Source: VNA)
Of the figure, Vietnam's export value is likely to reach 73.76 billion USD, a rise of 19 percent over the same period last year, while import value is calculated at 70.37 billion USD, an increase of 10.1 percent.
The highest growth was seen in the export earnings of telephone and spare parts at 36.8 percent to hit 13.42 billion USD, followed by garment products at 15.7 percent, computers, aquaculture products at 13 percent and electronic products and parts 10.83 percent.
Meanwhile, the value of imported computer, electronic products and parts rose 22.3 percent to 13.42 billion USD, while that of machineries, equipment and spare parts dropped 7.4 percent to 10.16 billion USD.
Imports of telephone and spare parts increased 9.8 percent to 4.42 billion USD, and that of fabric of all kinds was up 10 percent year on year to 3.66 billion USD.
In April alone, total trade revenue of the country is estimated at 35.7 billion USD, a drop of 10.8 percent compared to the previous month. Exports showed a reduction of 13.9 percent on a monthly basis to 18.2 billion USD, and imports in the month also fell 7.3 percent month on month to 17.5 billion USD.
As a result, trade surplus in April is estimated at 700 million USD, raising the surplus for the January-April period to 3.39 billion USD./.
VNA