Hi-tech shrimp breeding model brings high efficiency
Recent years, the farmers in Long An province's lowland area have applied new, hi-tech shrimp breeding model and earned high profit from this model.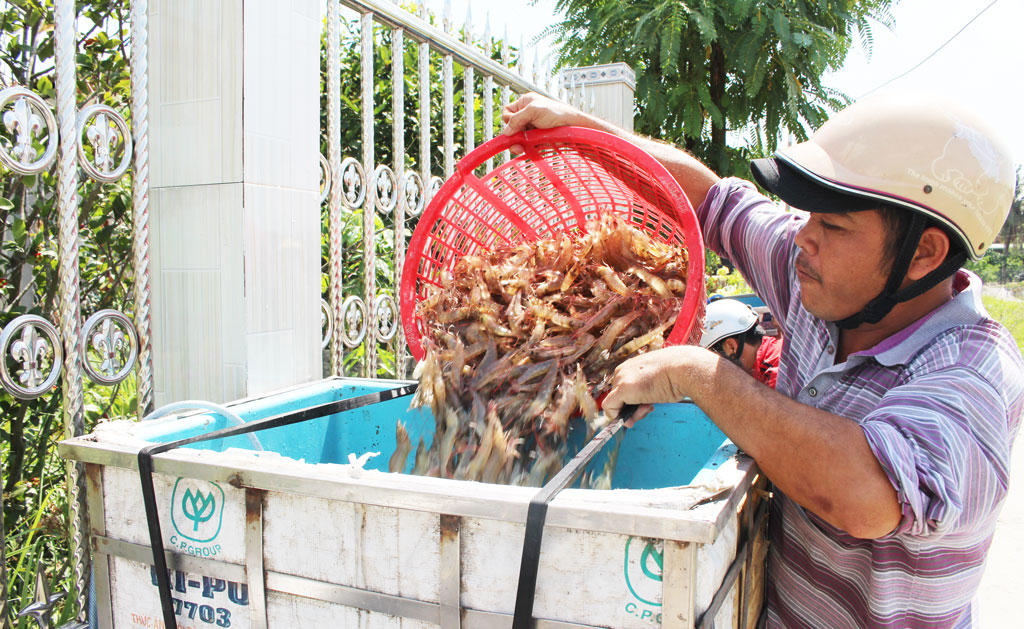 Income increases
At Can Giuoc district, shrimp farmers have also applied this model. Mr. Nguyen Thanh Tien (Phuoc Vinh Dong commune) shared his family has collected an average of 3.1 tons after 80 days, a much higher efficiency than traditional farming.
The hi-tech shrimp-breeding model also helps prevent shrimp diseases, reduce dead shrimp within 20 first days.
Earlier, local people's lives met many difficulties but after they took this model for breeding shrimp, their life became better. Currently, Tan Chanh commune in Can Duoc district has six cooperative groups applying high tech shrimp breeding.
Mr. Nguyen Van Khai (Tan Chanh commune) said in the past years, shrimp farmers always had met difficulties and challenges. Recent two years, shrimp households have started equipping new tech tools and using instructed skills in breeding therefore shrimp farming areas have not been effected by disease. "In 2017, my family profited around VND 4billion from breeding shrimp", said Mr. Khai.
Mr. Phan Van Kieu, from Tan Chanh commune shared since he has applied new, high tech shrimp breeding model, he got a high profit. Farmers in Tan Chanh commune therefore set up cooperative groups and link together in breeding shrimp, aiming to increase the shrimp value.
Leader of Can Duoc district Mr. Huynh Van Quang Hung said basing on new production progress and high tech model, shrimp breeding has achieved high result, local people have had stable income. The authority will actively cooperate with the departments, relevant agencies to tackle difficulties in hopes of helping shrimp farmers not to worry about their life.
More supports
Deputy director of Long An Agricultural Encouragement Center Pham Phu Hung said recent years, basing on applying hi-tech shrimp breeding, shrimp gets lower the risk of diseases and shrimp farmers earn high profit from shrimp farming. In the upcoming time, the authorities need to have more support policies to hi-tech shrimp farmers; invest in infrastructure system to industrial shrimp farming areas and instruct farmers in applying high tech shrimp breeding model.
Deputy Chairman of Long An People's Committee Pham Van Canh asked the department of Agriculture & Rural Development and relevant agencies to solve difficulties for shrimp farmers; besides the departments should tighten controlling the quality of baby shrimp and building hi-tech piloted program in breeding aquatic to expand this model to the province's localities.
The province has 2,400 hectares of shrimp farms producing 2.2 tons per hectare with output of 1,736 tons. By the beginning of the year, 57 hectares of shrimp farming has suffered from white-pot diseases, accounting for 2.4 percent over the whole areas./.
By staff writers-Translated by Dinh Thanh