Standing Deputy Prime Minister - Truong Hoa Binh meets Tan Tru voters
On June 27, National Assembly delegates Truong Hoa Binh, Truong Van No, Hoang Van Lien, Nguyen Tuan Anh, Phan Thi My Dung, Dang Hoang Tuan, Le Cong Dinh and Truong Phi Hung met voters in Tan Tru district after the 9th session of the 14th National Assembly. Chairman of Long An Provincial People's Committee - Tran Van Can; Colonel Tran Van Trai, Commander of the Provincial Military Command; Vice Chairman of the Provincial People's Committee - Pham Van Canh attended the conference.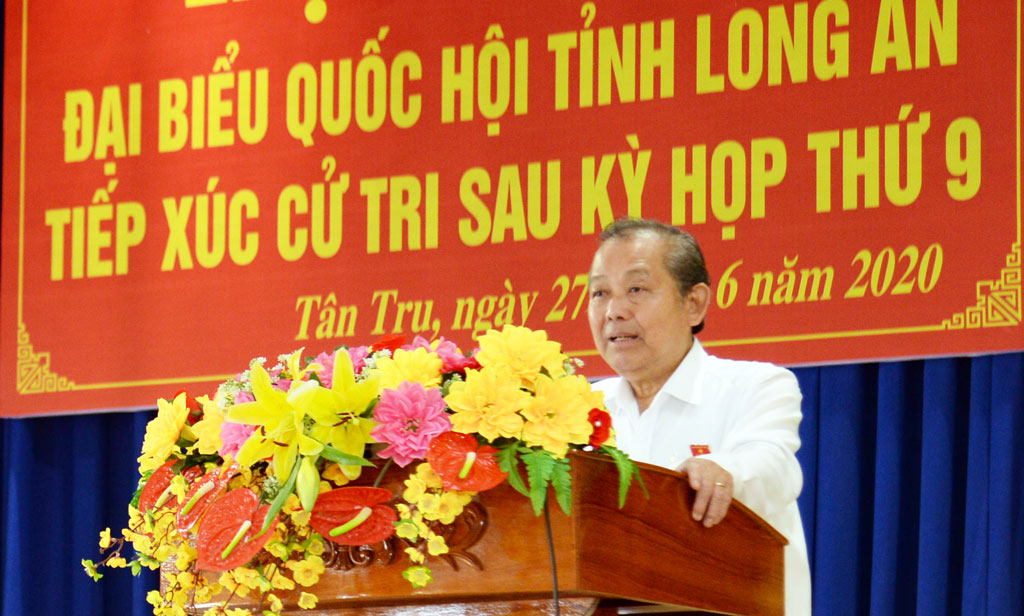 Standing Deputy Prime Minister - Truong Hoa Binh meets Tan Tru voters
At the meeting, representatives of the voters of Tan Tru town, Binh Tinh, Duc Tan, Binh Trinh Dong and Tan Phuoc Tay communes proposed about the production, economic development, security and order, transport and policy of martyrs' families to the National Assembly deputies.
The voters proposed to provide funds to build a system to bring fresh water from Tien Giang province to Thu Thua district to Tan Tru district; to have a solution to store fresh water in Nhut Tao irrigation system to serve agricultural production in case of drought. They were also worried about the price of agricultural products, especially dragon fruits.
In addition, they proposed to soon build the Ho Chi Minh City - Long An - Tien Giang axis road in order to create favorable conditions for the transportation of agricultural products and goods. Recently, online gambling and cockfighting have tended to increase, they required functional agencies to strictly handle in order to stabilize local security and order.
The National Assembly delegates and local leaders responded to recommendations according to their competence as well as noted other comments to transfer the authorities for consideration and settlement.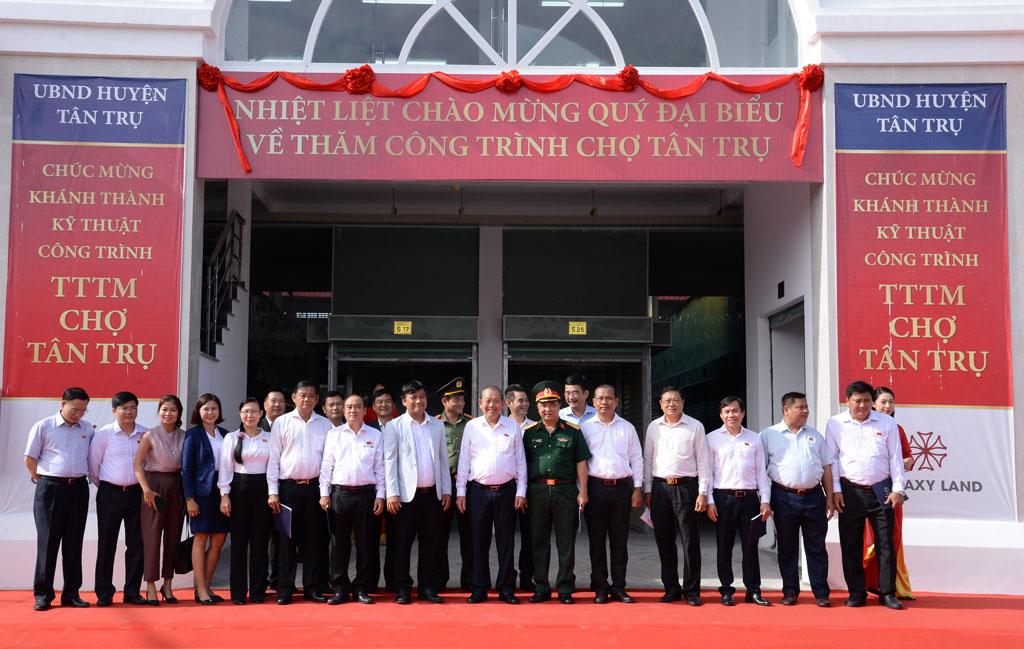 The delegates attend the inauguration ceremony of Tan Tru market
On this occasion, the Standing Deputy Prime Minister - Truong Hoa Binh and the provincial National Assembly delegation visited and presented gifts to the Vietnamese Heroic Mother Huynh Thi Nien and the family of the Hero of the People's Armed Forces Huynh Van Danh; presented 3 houses of compassion worth 50 million VND each to disadvantaged households. Besides, the delegates offered flowers and incense at the Martyrs' Monument in Tan Tru district; attended the inauguration ceremony of Tan Tru market - a key project to celebrate the 11th Tan Tru District Party Congress, term 2020 - 2025./.
By Staff writers - Translated by Pham Ngan
Source: http://baolongan.vn/pho-thu-tuong-thuong-truc-chinh-phu-truong-hoa-binh-tiep-xuc-cu-tri-tan-tru-a97762.html