Supporting enterprises in trade promotion and sustainable development
Trade promotion is an important and effective solutions to improve the three growth drivers: investment, export and consumption, through supporting enterprises to develop production, domestic market and promote export.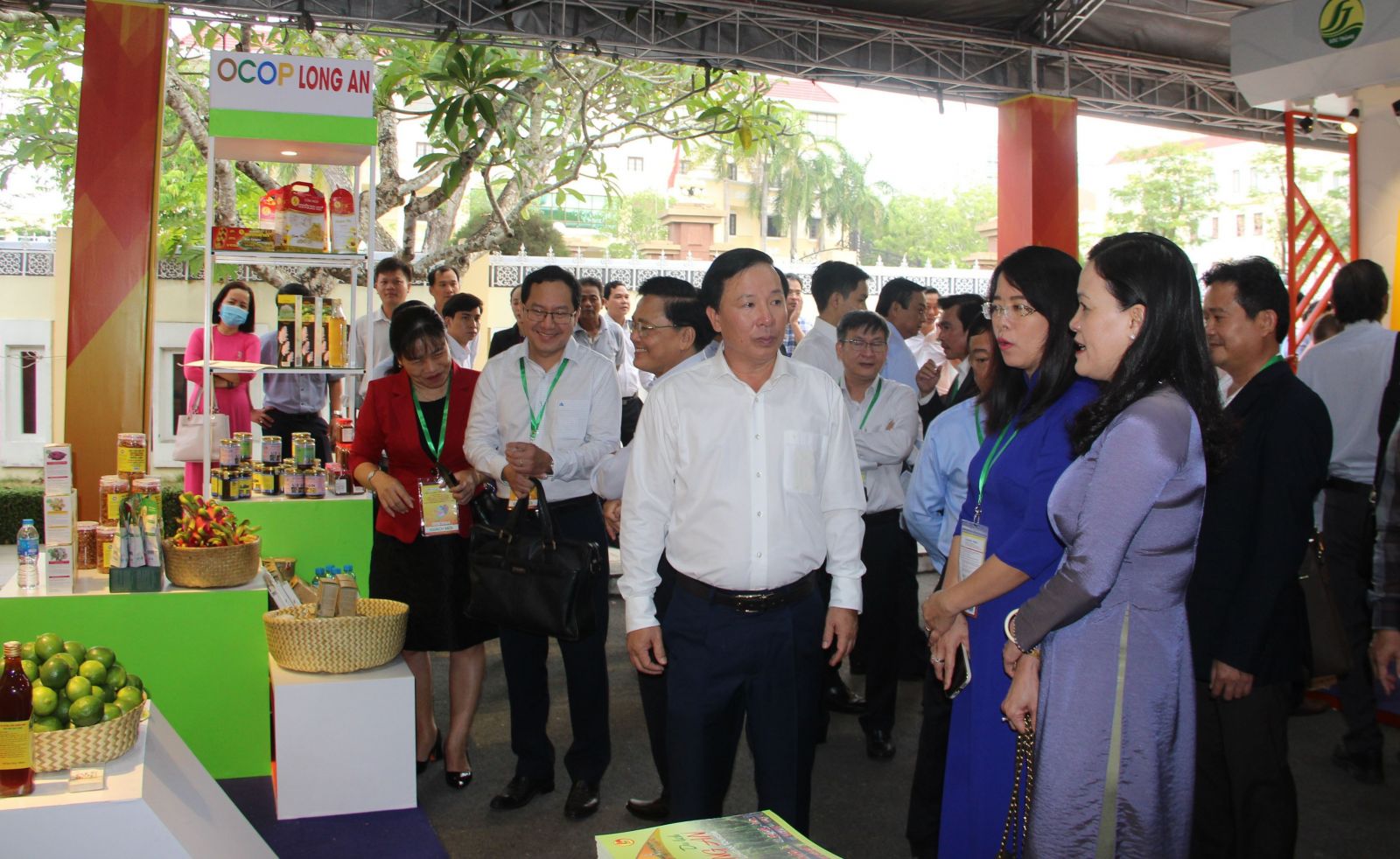 Enterprises participating in displaying and promoting products at the Conference on Preliminary Review and Implementation of Socio-Economic Development Cooperation Program between Ho Chi Minh City and the provinces and cities of Mekong Delta region.
Measures to connect supply - demand, trade promotion
According to the assessment from Deputy Director of Department of Industry and Trade - Chau Thi Le, in 2022, the economy faced many difficulties and challenges. However, the Department directed its subordinate units to be proactive in implementing trade promotion, thereby, promptly removing difficulties, supporting enterprises to recover and develop production and business. Also, the Department actively implemented many measures to connect supply and demand of goods, maintains and strengthens trade promotion activities to promote domestic and export goods circulation. As a result, the stable development of the domestic market has made an important contribution to trade promotion.
One of the advantages of trade promotion that Long An has carried out in recent years is to coordinate and support cooperatives and enterprises in the province to bring key agricultural products into the distribution system in Ho Chi Minh City and many other provinces and cities, thereby, contributing to stabilizing the consumption market and improving people's living standards. Up to now, in the province, there are over 30 enterprises, cooperatives and production facilities performed 234 contracts to supply vegetables and fruits to the market of Ho Chi Minh City and other provinces and cities in the region. In particular, with the support from the People's Committee of Ho Chi Minh City, Long An has many businesses from Ho Chi Minh City to invest and expand the commercial market. Many large enterprises in Ho Chi Minh City have invested in factories, production facilities, developed distribution facilities, helping to link and cooperate effectively from purchasing, consuming products, stabilizing the local market. Typically, San Ha Co. Ltd and Ba Huan Joint Stock Company have invested in poultry processing and slaughtering plants, as well as signed many contracts to consume eggs, poultry, and waterfowl.
Recently, a conference on preliminary review and implementation of Socio-Economic Cooperation Program between Ho Chi Minh City and the provinces and cities of Mekong Delta was held in Ben Tre. The conference aims to promote and expand the market for high-quality domestically produced products, especially typical products of localities, thereby, creating opportunities for provinces, cities and businesses to meet, exchange and share experiences in management, trade promotion, investment cooperation, connection and development of product consumption markets. Within the framework of the conference, a program of trade connections was also organized. There are 12 Long An enterprises participating in exhibition, promotion and trade connection there.
At the conference, 3 distribution units in Ho Chi Minh City signed memorandums of understanding, namely Loc Tai Investment and Development Company Limited (watermelon, melon) signed with Central Retail Vietnam Group; Hai Au Farm (seedless lemon) signed with MM Mega Market Vietnam Co., Ltd; Hoa Cuong Fruit Import and Export Co., Ltd (dragon fruit, durian,etc) signed with Thu Duc Agricultural Market Trading and Management Joint Stock Company.
Businesses displaying and promoting products
Efforts to meet consumer demand
On March 14, 2023, in Ho Chi Minh City, the Association of High Quality Vietnamese Goods Enterprises honored and awarded the certificate of High Quality Vietnamese Goods in 2023 voted by consumers to 519 enterprises. These enterprises have been creating jobs for 341,560 full-time workers and 28,791 part-time workers. Vuon Nha Minh Co., Ltd (Tan Binh commune, Tan Tru district) has received the certificate of high quality Vietnamese goods for many consecutive years.
Director of Vuon Nha Minh Co., Ltd - Pham Ngoc Anh Tuan said that being voted by consumers shows that Vuon Nha Minh's products have been trusted and used more and more. This is good news to know that consumers are more interested in using more clean, natural, healthy and disease-preventing moringa products.
According to Mr. Tuan, after many years of efforts, his company has created many products to serve consumers. Initially, they only created a few products such as moringa powder, nutritional porridge, tea, cake,etc. Now, the products are more diverse, including moringa serum, lip balm. The company was also lucky that in addition to efforts to produce and create new products, the trade promotion program organized by the Department of Industry and Trade has facilitated them to access more markets. Currently, the company's products are distributed in many provinces and cities such as Ho Chi Minh City, An Giang, Long An, Kien Giang, Can Tho, Tra Vinh,etc.
The trade promotion programs that Department of Industry and Trade implemented in the past time has helped many businesses have a stable consumption market. Typically, Kim Ngoc Food Sausage Co., Ltd (Nhon Thanh Trung commune, Tan An city) currently has stable output at the stores system of Bach Hoa Xanh, SanHaFoodstore,etc with an output of many tons per week. In addition, there are many other products such as Kim Hue sausage, Ba Buoi mam ruoc, Co Ut rice paper,etc facilitated by the trade promotion programs.
According to Ms. Chau Thi Le, in 2023, the Department of Industry and Trade will continue to implement many trade promotion programs to promote consumption and stimulate consumer demand, accelerate the flow of goods, and create a bridge connecting trade between Long An, Ho Chi Minh City with each province and city in particular and the Mekong Delta in general. In addition, the Department will also promote connections, put products on e-commerce platforms, establishe online distribution channels, orient to export typical goods, further promote the spirit of Vietnamese prioritizing Vietnamese goods and Vietnamese goods prioritizing Vietnamese. In order for goods to be traded well, the Department of Industry and Trade encourages businesses to follow the processes of food safety production, form a production and business chain, invest and develop, and associate production with distribution and consumption./.
By Mai Huong - Translated by Q. Thien
Source: https://baolongan.vn/ho-tro-doanh-nghiep-xuc-tien-thuong-mai-phat-trien-ben-vung-a151758.html