Tiny Hearts of Hope sponsors nearly VND 140 million to rebuild kitchen for Long An students
Viet Lam Primary School (VLPS) in Thanh Vinh Dong commune, Chau Thanh district, Long An province inaugurated a newly-built kitchen for students on February 26. Through the mobilization of the Long An Provincial Union of Friendship Organizations, the Tiny Hearts of Hope Foundation (THOH)/USA financed part of the budget to rebuild a new kitchen to replace a degraded old one.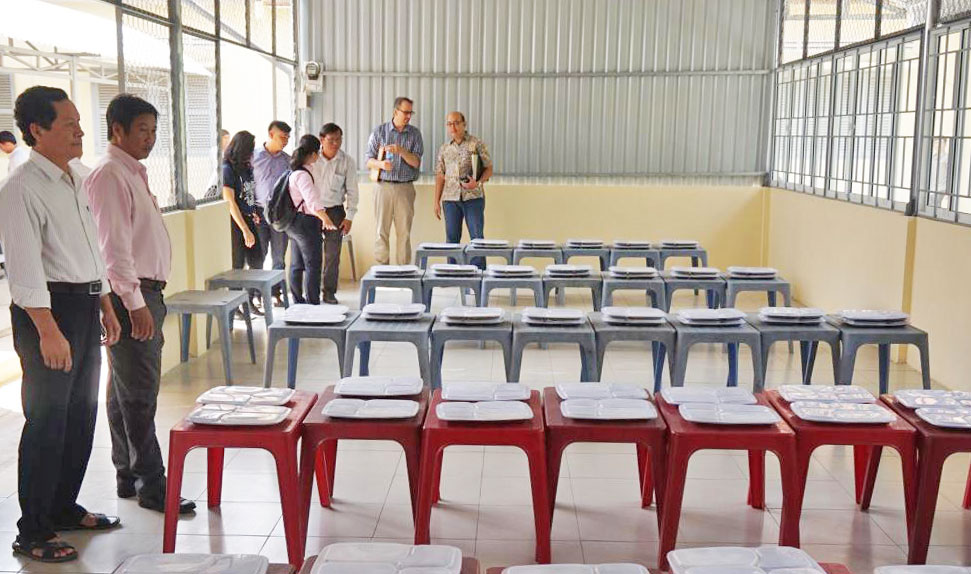 The newly-built kitchen covers the area of 62m2 with many rows of dining tables for students
After receiving the support from THOH, the kitchen was completed after more than 2 months of construction. Its worth is VND 185 million, in which THOH supported nearly VND 140 million.
Thank to the support of THOH, students have a clean spacious kitchen to have lunch
Headmaster of VLPS - Mr. Nguyen Van Bay thanked THOH for the practical support; Thereby, the school students have a clean spacious kitchen to have lunch.
It is known that VLPS has 450 students, many of whom live 5-7 kilometers away from school, some have to go to school by boats because the commune has many rivers and canals. Presently, VLPS meets the national standard at level 1./.
By Dai Lam – Translated by Duc Tam
Source: http://baolongan.vn/tiny-hearts-of-hope-tai-tro-gan-140-trieu-dong-xay-nha-an-cho-hoc-sinh-tai-chau-thanh-a71335.html