Traffic invested, development prospects opened up
In recent years, many traffic infrastructure projects in Long An province have been invested in building, upgrading, expanding, creating a breakthrough in not only its appearance but also promotion for socio-economic development of localities rapidly.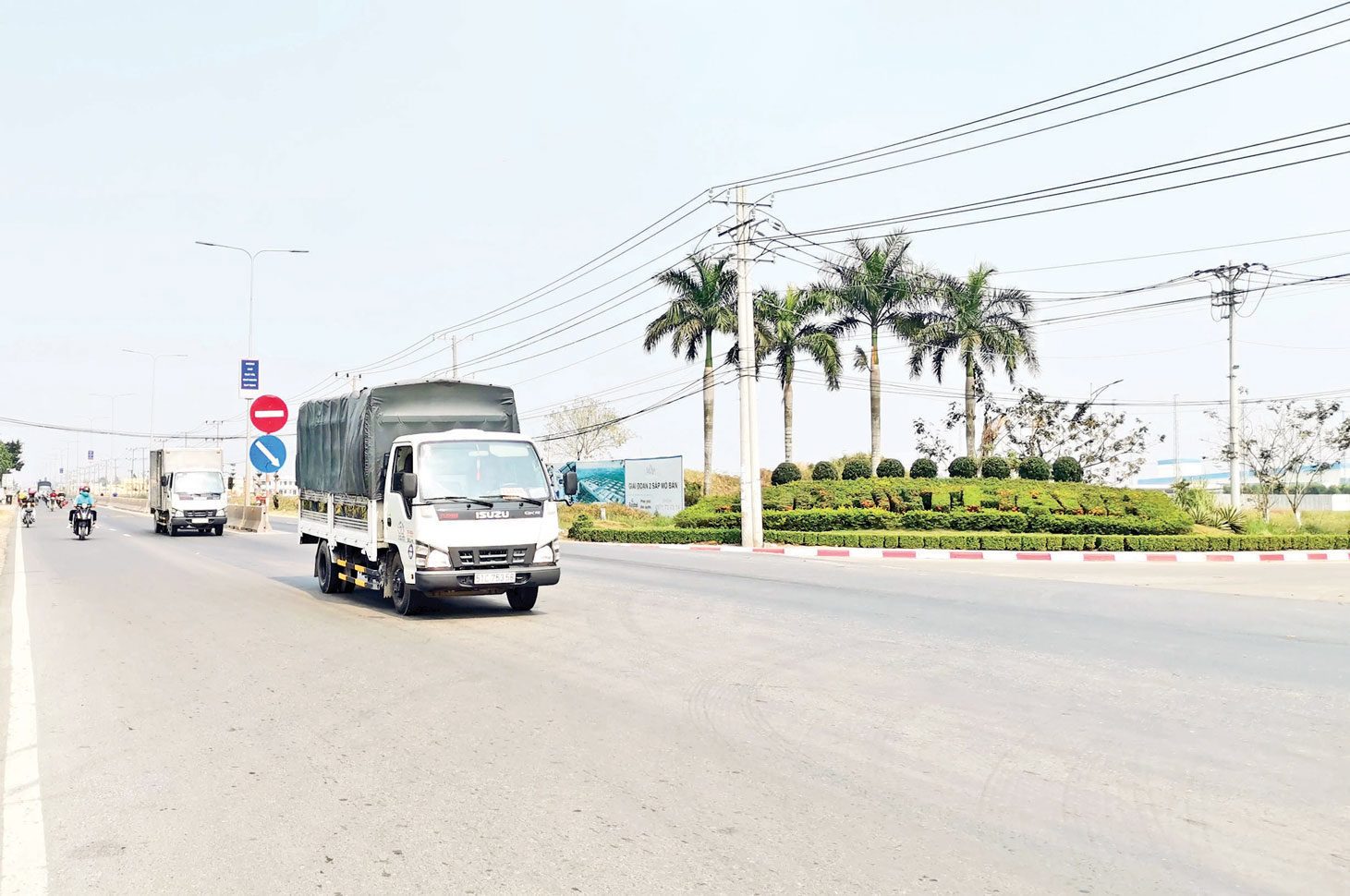 Provincial Road 830, a session through Ben Luc district
Facilitating investment attraction
In order to connect trade between regions and provinces and cities in the region, speed up the process of industrialization and modernization, the province prioritizes many resources to develop transport infrastructure. The resolution of the Xth Provincial Party Committee Congress (term 2015-2020) has determined that the mobilization of all resources to build transport infrastructure systems serving the industrial development of key economic regions is one of two strategic breakthroughs programs, need to focus on implementing the leadership.
According to Deputy Director of the Department of Transport - Nguyen Hoai Trung, 14 transport projects under the breakthrough program will renovate, upgrade and expand nearly 95 kilometers of roads, with a total investment of over 5,855 billion VND, with State budget capital is over 2,912 billion VND, capital for business mobilization is 2,943.2 billion VND. Up to now, after nearly 5 years of implementation, 9 projects have been completed and put into use, 2 projects will be completed in 2020 and 3 projects completed after 2020.
In addition to implementing the breakthrough program under the Resolution of the Xth Congress, the province also invested in 3 key projects including PR 830 (Duc Hoa section - Long An International Port); Ring Road of Tan An city (including a bridge over Vam Co Tay river); Transport infrastructure - urban connecting Ho Chi Minh City, Long An and Tien Giang province. Currently, the works are basically guaranteed according to the plan. Relevant departments, branches and localities focus on solving difficulties and problems and speeding up implementation progress.
Being at PR 830, the section passing Ben Luc district, we saw the number of people and vehicles, especially crowded trucks and container vehicles. Mrs. Bui Thi Ba, living at Hamlet 7, Luong Hoa commune, Ben Luc district, owner of a lemon export enterprise, happily said: "This road used to be small, narrow, damaged, now upgraded and expanded. plastic, container vehicles can be easily circulated, helping businesses more convenient in transporting goods and agricultural products".
Information from the Project Management Unit of Traffic Works of the Department of Transport, currently, PR 830, the section from National Highway (NH) 1 to NH50 (phase 2) continues to be upgraded from grade IV to grade III, 4 lanes with 18.5 meters wide roadbed, 14 meterrs wide road surface, paved with asphalt; Four bridges on this route including Long Son, Ba Tuong, Rach Dao and Nha Ram bridges will also be expanded from 10 meters to 17.5 meters (expanding each side 3.75 meters) with a total investment of over 600 billion VND.
Promoting socio-economic development
Over the past years, the rapid development of transport infrastructure has made an important contribution to implementing the three strategic planning regions of the province, creating a strong driving force to promote industrial sectors and careers, and handicrafts, trade - services to developed.
The appearance of the homeland from rural to urban areas flourishes in the direction of civilization and is more modern. Thereby, the program of building cultural communes, a new-style rural, a civilized city of the locality were effectively implemented.
Having a chance to return to PR 816, the section from Vam Thu Doan bridge to NH N2 through the communes of Thanh Duc, Binh Duc, Thanh Loi, Thanh Hoa (Ben Luc district) and Binh Hoa Nam (Duc Hue district), we noticed the marked changes in the rural appearance as well as the joy of the people. That joy is not only because of the beautiful road, but because of the expansion and upgrading of this route, infrastructure and social security conditions are also more and more perfect.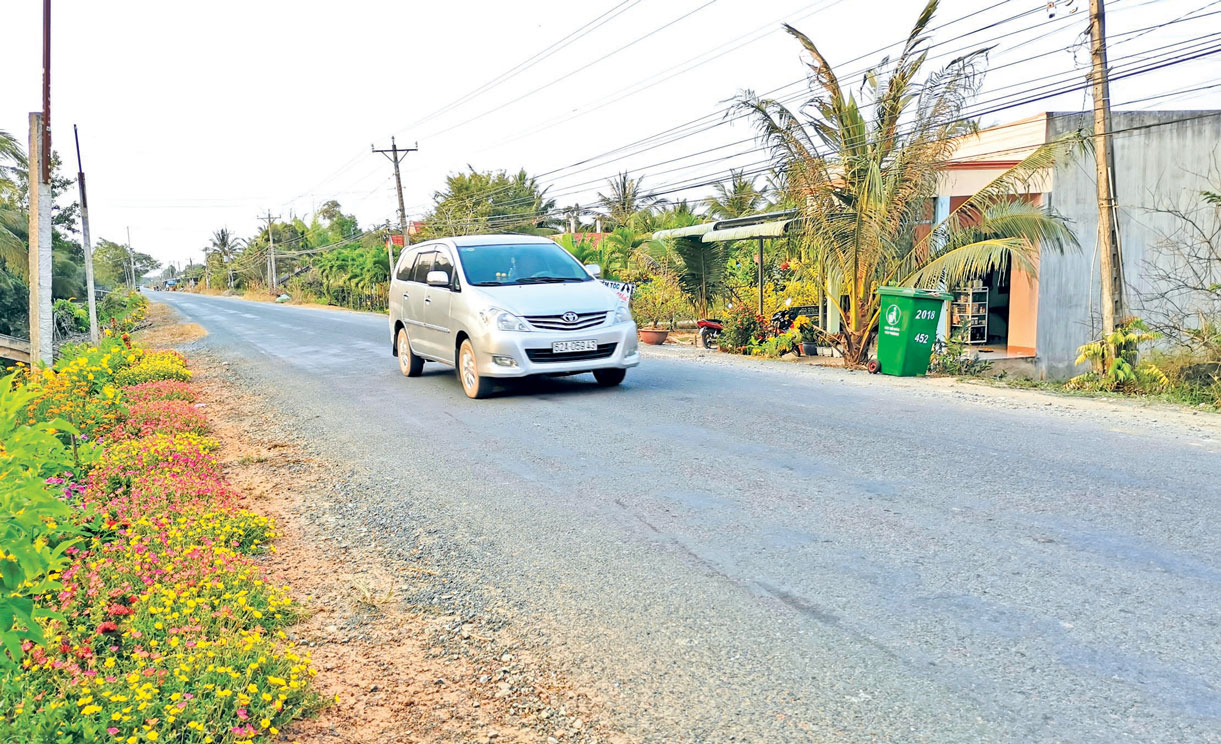 PR 816 has been widely and spaciously asphalted
Mr. Nguyen Van Cong, living in Hamlet 6, Thanh Loi commune, excitedly said: "The upgrade and expansion of this road is the desire of the people for many years. Therefore, when the province has a plan to implement, the people are happy, most of them agree to hand over the site so that the project is soon completed and put into use. Now, the road is paved widely and no longer muddy. In the dry season, people are no longer worried about dust flying on both sides of the road".
As one of the localities located in the key economic region of the province, Can Duoc district always focuses on investing in transport infrastructure systems. The district not only focuses on mobilizing the implementation of the main arterial roads of the province, but also is interested in upgrading and expanding district and commune roads. Therefore, the traffic infrastructure in the district is increasingly perfect, basically meeting the needs of traveling, exchanging goods, serving socio-economic development.
Phuoc Dong is a commune in the low-land area of Can Duoc district, with 2 major roads, NH50 and PR 826B. Previously, PR 826B connecting NH50 with Long Huu isle is very small, narrow, only covered with red stone, now, the road has been expanded and asphalted. Mrs. Tran Thi Nhuan, living in My Dien hamlet, Long Huu Tay commune, confided: "A few years ago, everyone was tired of just thinking about coming here. Thanks to the paving of roads, the two remote communes have new conditions for development".
It can be affirmed that investment in traffic development is the right decision. Currently, although many projects are still in the construction phase, they have shown their potential for development. It is believed that Long An will continue to make a strong breakthrough in the future with the investment in perfecting the transport system./.
By Ky Nam – Translated by Duc Tam
Source: http://baolongan.vn/dau-tu-giao-thong-mo-ra-trien-vong-phat-trien-a103185.html