Training cirriculum and occupations diversified to meet labor market demands
Currently, the demand for recruiting skilled labor is huge. Therefore, the vocational education institutions in Long An province provide practical training to meet the needs of the labor market. It not only ensures efficient output, shortens apprenticeship time and saves costs, but also contributes to overcoming the problem of "redundancy of teachers, lack of workers" step by step.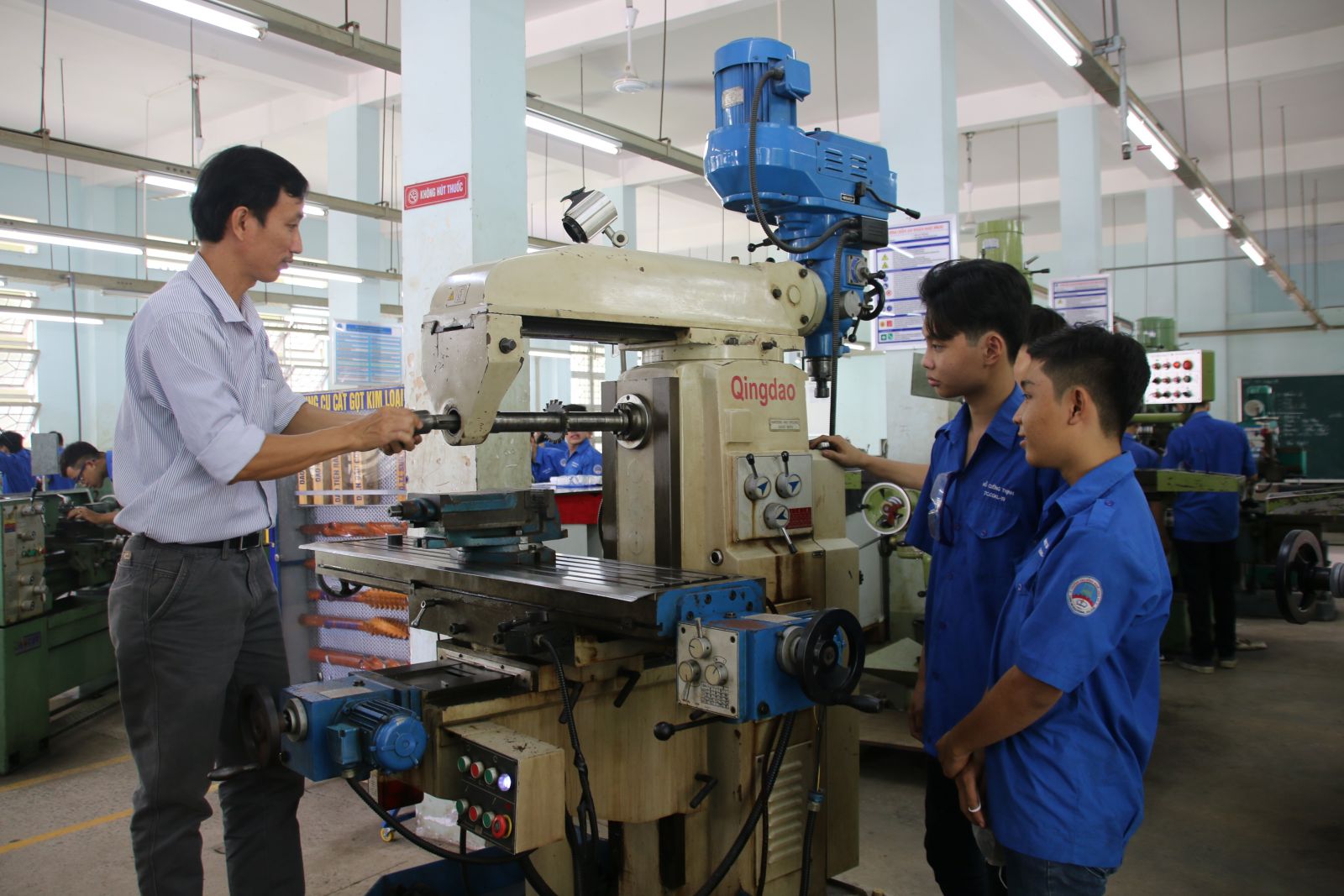 Long An College is not only diversify careers, but also equipped with modern machinery and equipment
Diversity of training cirriculum and occupations
Currently, the province has 25 vocational education institutions, of which, Long An College is the only public college with campuses in Tan An City, Duc Hoa District, Can Giuoc and Kien Tuong Town. The school was built on an area of nearly 18 hectares (4 campuses), with modern and synchronous machinery and equipment with a total investment of over 435 billion VND and 20 training occupations. According to Vice Rector Le Minh Tam, the school has over 4,000 students studying at intermediate and college levels. From now to 2025, the school will continue to invest by the Ministry of Labor, War Invalids and Social Affairs as one of the 88 high-quality colleges of the country with the project of 5 key occupations (international level: mechanical equipment, industrial electricity; ASEAN region level: welding, mechatronics; national level: technology of air conditioner and air conditioning) with a budget of over 160 billion VND.
In addition to Long An College, a prestigious vocational training school that contributes to the supply of labor for enterprises inside and outside the province is Long An Economic - Technical College (in Ben Luc district). In order to improve quality, the school invests in upgrading facilities and equipment as well as training and retraining staff and teachers. The school has 8 careers, in which, Mechanical engineering technology, Industrial and civil Electrical, Technology of air-conditioner and Air-conditioning engineering has very high job opportunities.
Student Nguyen Hoang Quan (born in 2000, living in Hamlet 4, Thanh Phu Commune, Ben Luc District), studying Industrial and Civil Electrical class, said: "The training program at the school is very practical, the learners are practiced a lot, so I will not be surprised when I do my job. Moreover, the school has many supportive and preferential policies for students; I feel secure when I graduate from school because of being introduced to have a stable job".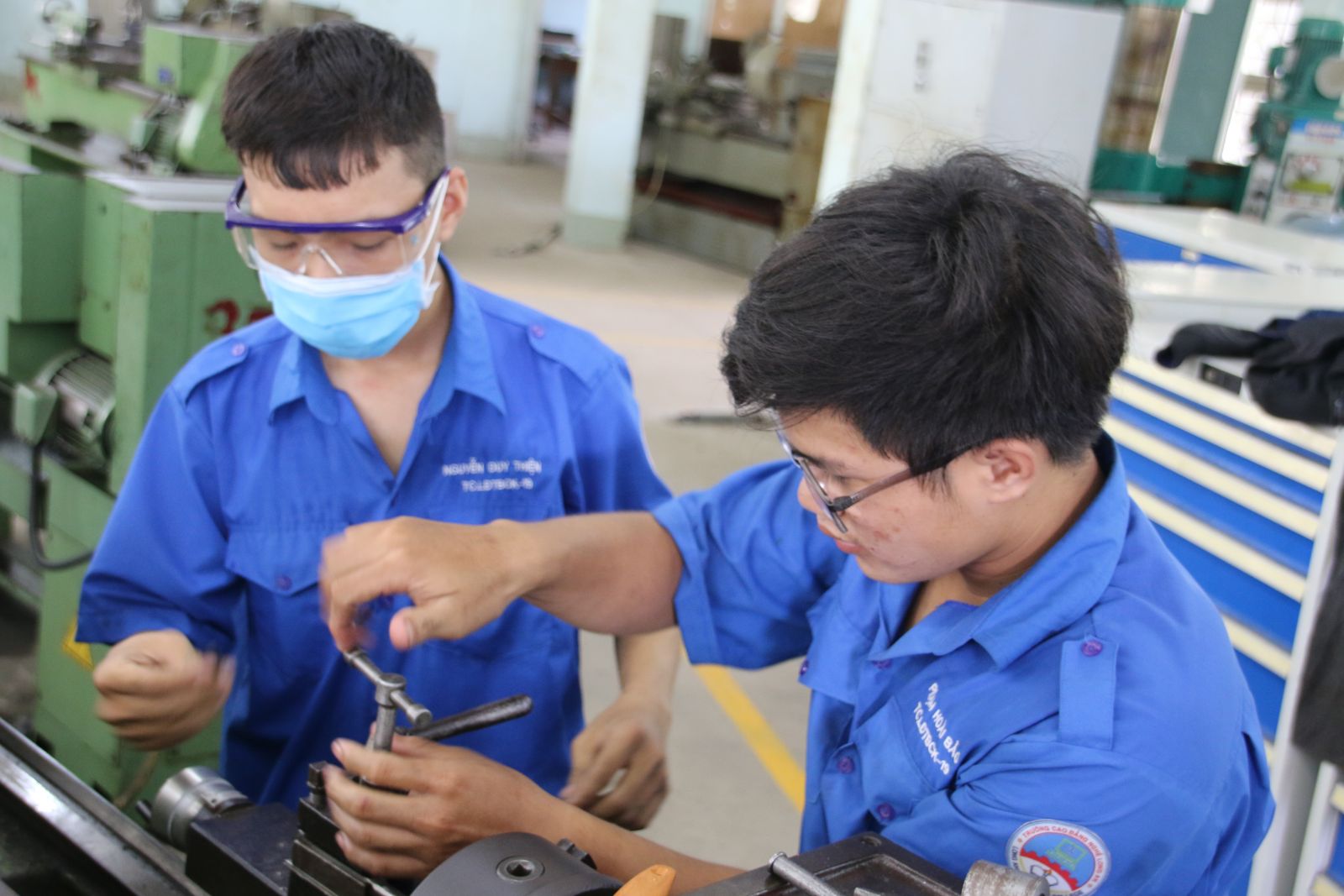 At vocational education institutions, the practical part accounts for 70 percent of the training program, so students are able to keep pace with the work right after graduation
Training associated with businesses
Currently, the demand for skilled labor recruitment from enterprises inside and outside the province is big. Therefore, the vocational training institutions are closely linked with enterprises to ensure employment for students. The Vice Rector in charge of the Long An Intermediate School of Economics - Technology - Pham Thi Trinh said that the school not only connects with businesses, but also strengthens to find out the recruitment needs of enterprises, makes statistic of the students' employment rate in order to have practical training orientations. Currently, 80-85percent of students has jobs after graduation immediately, the rest works at home or continues to study to improve their qualifications.
With Long An College, to ensure stable job output for students, the school creates relationships with more than 100 enterprises. Every year, the school organizes a Job Fair, invites businesses to interview, recruit right at the school. As a result, over 95 percent of students find a job right after graduation.
In the training process, the school always closely connects with enterprises in bringing students to practice, receiving materials from enterprises to the school for students to practice towards making products, introducing jobs after graduation and associated with the project of sending laborers to work abroad under the contracts of the Provincial People's Committee.
From the beginning of 2020 up to now, the school has coordinated with Long An Job Service Center and enterprises to disseminate the project of sending workers abroad under the provincial contract for more than 1,000 students preparing to graduate in 2020. Thereby, it helps them to grasp the content of the project, loan policy, jobs, market and recruitment conditions to have suitable choices after graduation.
At the end of July 2020, the school signed a comprehensive cooperation with ESUHAI Co., Ltd. to connect graduates in the provincial vocational education system to have opportunities to work in Japan, increase income and improve professional qualifications, etc.
"A rolling stone gathers no moss", just change your mind, aim for a specific goal, it is clear that the path of success will come, whether you are a "worker" or a "teacher". For vocational training institutions, in addition to the diversity of occupations, the practical training accounts for 70 percent of the training program, so the students are able to keep pace with the work right after graduation, not to mention, if they boldly try their greed. The family working abroad can also achieve a high income and open up many development opportunities in the future.
According to Deputy Director of Department of Labor, Invalids and Social Affairs - Nguyen Dai Tanh, the work of vocational education in the province continues to innovate, create a clear change in training quantity and quality; develop the vocational education system with many modes and qualifications in the coming time, especially training high-quality human resources in accordance with the spirit of Directive No. 24/CT-TTg, dated May 28, 2020 of the Prime Minister on promoting to develop skilled human resources, contribute to improving labor productivity and increasing national competitiveness in the new situation.
Accordingly, the breakthrough solutions are to effectively deploy mechanisms and policies to develop vocational education, human resources with vocational skills; increasing digital transformation and online training, focusing on retraining and regular training; ensure that learners have professional skills, digital skills, soft skills, entrepreneurial skills and foreign languages, and so on to adapt to the needs of the labor market. To well perform the task of forecasting the need to build and update open data on labor with occupational skills in each field, profession, training level, especially new occupations and skills; enhance the application of information technology in connecting supply - demand to improve efficiency in training and employing labor. At the same time, closely linked "3 sides": State - School - Entrepreneurs in vocational education activities; encourage businesses to recognize, recruit, use, pay salaries, wages for employees based on skills and professional capacity; recruiting, employing trained laborers or having certificates of national occupational skills in accordance with the law./.
By Pham Ngan – Translated by Duc Tam
Source: http://baolongan.vn/da-dang-cac-nganh-nghe-dao-tao-dap-ung-nhu-cau-thi-truong-lao-dong-a100726.html