Effects of large-scale field program
In 2019, breakthrough programs and key projects under the Resolution of the Xth Party Congress of Vinh Hung District, Long An Province (tenure 2015-2020) were focused on directing and promoting efficiency.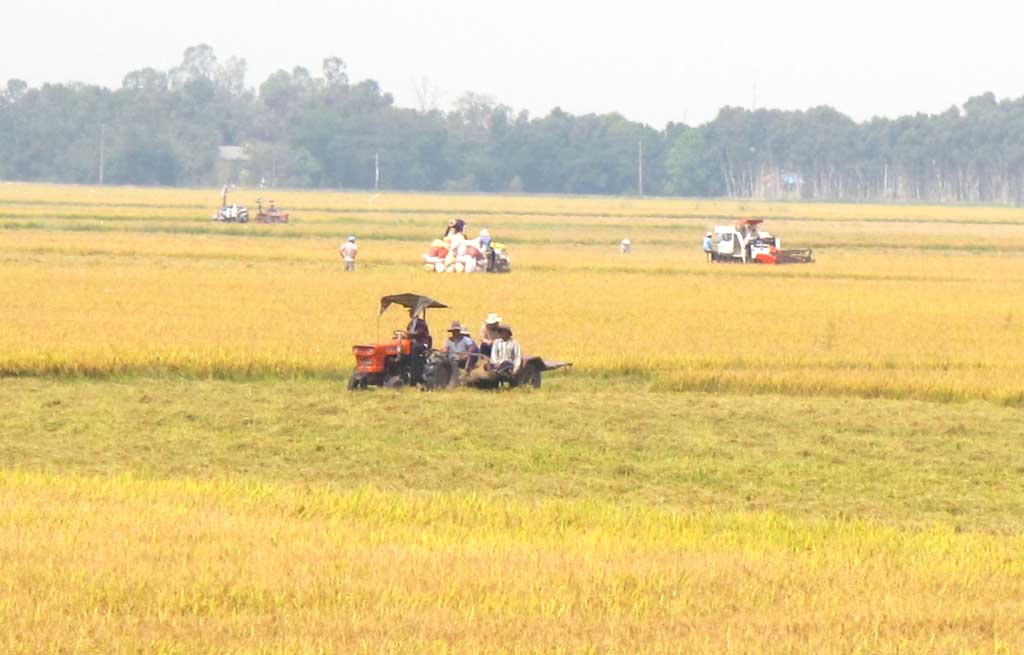 It is estimated that for each hectare of large-scale fields, production cost decreases by 2 - 3 million VND, profit increases by 3 - 5 million VND
In particular, the large-scale field program brought positive results, contributing to maintaining good economic growth with a total production value of 3,130.1 billion VND, reaching 100.33 percent of the resolution (up 6 percent compared to the same period in 2018).
According to the statistics of Vinh Hung District Party Committee, in 2019, in implementing the large-scale field program, the district had 18 turns of enterprises participating in production cooperation with a total area of 4,858.4 hectares, increasing the cooperated area of 18,808.2 hectares, reaching 92.2 percent of the resolution in 2019 and 134.3 percent of the provincial targets assigned (14,000 hectares). The large-scale fields provided practical benefits for cooperating parties such as cooperatives, cooperative groups and businesses; in particular, associated contracts helped farmers produce farm models to create a large volume of commodity products, lower costs and increase income compared to the district average.
Mr. Nguyen Van Thiem (in Tuyen Binh commune) has participated in linking large-scale field production with an area of over 10 hectares. He shared: "Joining the large-scale fields, we are assured of farming thanks to the guidance of scientific and technical application; the support of fertilizer, seeds, plant protection drugs of the enterprises, etc. It is estimated that for each hectare of large-scale fields, production cost decreases by 2 - 3 million VND, profit increases by 3 - 5 million VND."
According to the assessment of the agriculture sector of Vinh Hung district, the implementation of large-scale fields is an important and long-term solution, contributing to restructuring agriculture, raising added value and developing sustainably in rice production and other crops of the district in the coming time. In particular, large-scale fields have been applied advanced processes in production, gradually serviced all steps in production, etc. to contribute to the establishment of raw material areas through the "4 sides", produce and consume agricultural products under the contracts, regulate and consume rice in key rice-producing regions, increase productivity, quality and value of rice grain, increase competitiveness and profit as a basis for rice production under VietGAP and food hygiene and safety, build Vietnam's rice brand in the country and export.
"Currently, in addition to encouraging farmers to produce high-quality rice varieties (OM4900, VD20, OM6976, OM4218, etc.), the district replicates models that applied scientific and technical advances in the planning areas such as "Community manages the brown planthoppers", "Working with farmers", "3 reduced, 3 increase" and "1 must, 5 decrease" fields, etc. In addition, the district will continue promoting and inviting businesses to invest in expanding production associated with product consumption, the establishment of increasingly sustainable linkages of "4 parties", contributing to creating a breakthrough in agricultural development "- Chairman of Vinh Hung District People's Committee - Truong Van Diep informed./.
By Song Mang - Translated by Pham Ngan
Source: http://baolongan.vn/hieu-qua-tu-chuong-trinh-xay-dung-canh-dong-lon-a91314.html