Hi-tech cultivating vegetables - right direction
Thanks to the well-implemented hi-tech application in vegetable cultivation, many cooperatives not only improve product value and increase income for their members, but also make cooperatives operate more and more effectively.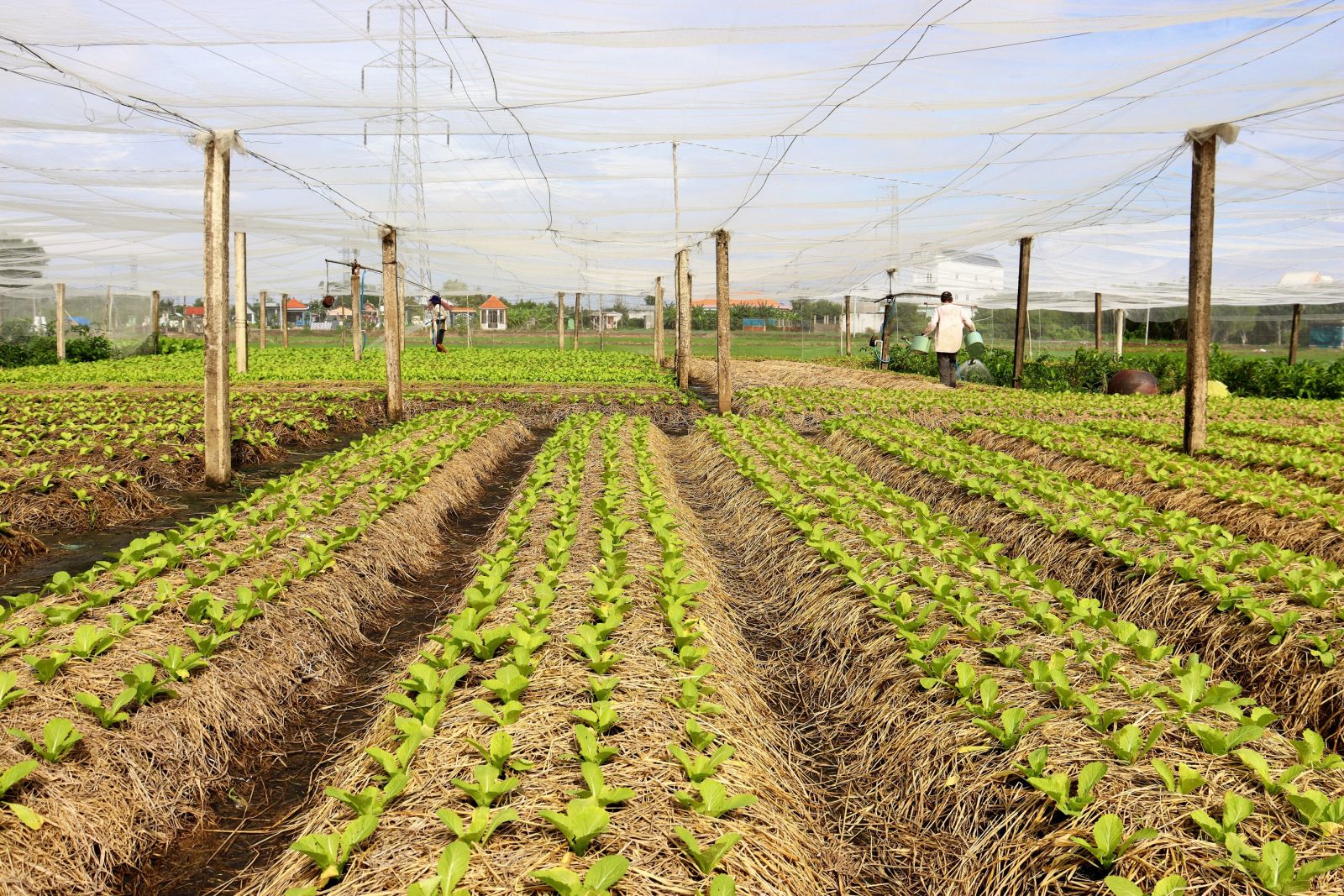 Hi-tech cultivating vegetables is an inevitable direction of modern agriculture
Can Duoc and Can Giuoc districts of Long An province have the largest vegetable growing area in the province, with about 2,000 hectares of hi-tech application vegetables. When the province deploys and implements the Scheme on hi-tech agricultural development in association with the restructuring of the Agriculture sector, in which, vegetables are one of the key crops that are oriented for long-term development. In order to apply it to production, the Agriculture sector began to transfer science and technology; capital support for cooperatives and cooperative groups. Over time, cooperative members actively use bio-organic fertilizers, smart irrigation systems, grow vegetables in net houses, greenhouses, reduce chemical fertilizers, etc. As a result, production costs are reduced, productivity increased from 5-20 percent, high profit from 2-5 million VND per 1,000 square meters compared to the traditional way of cultivating.
Ms. Huynh Thi Khuya - a member of Phuoc Thinh Agricultural Production - Trade - Service Cooperative (Phuoc Hau commune, Can Giuoc district), said: "Initially, I also wondered about the funding source for investment in the net houses, the automatic irrigation system. However, after the investment is completed, the cost is not too high but also brings many benefits such as not needing to spray a lot of drugs, just turn on the switch, 5 minutes has finished watering 4,000 square meters of vegetables. Thanks to automatic irrigation, vegetables are not bruised and sold at a higher price".
Besides creating favorable conditions for members of cooperatives and hi-tech cooperation groups to produce clean and safe vegetables to meet VietGAP and GlobalGAP standards, cooperatives in Can Duoc and Can Giuoc districts have also connected many consuming places inside and outside the province such as supermarkets, wholesale markets, collective kitchens, companies and businesses, contributing to introducing and promoting safe vegetables in the low-land areas to consumers.
Deputy Director of Phuoc Hoa Cooperative (Can Duoc district) - Phan Hoang Anh Tuan affirmed: "The initial goal of establishing the cooperative is to support people to produce quality agricultural products and ensure food safety to reach consumers. To do this, the cooperative promotes information and propaganda about the benefits and effectiveness of advanced technology in production; at the same time, coordinate with the Agriculture sector to transfer science and technology. Up to now, the cooperative has built 15 hectares of vegetables produced according to VietGAP process.
Head of the Agriculture and Rural Development Division of Can Duoc district - Nguyen Hong Chuong said: "Currently, it is difficult to expand the vegetable-cultivating area of the district, but vegetable production has increased because farmers have known high-tech agriculture to grow vegetables. The district currently has 6 vegetable-cultivating cooperatives, all of which have been recognized as meeting VietGAP standards and certified for food safety and hygiene.
According to the Scheme on developing hi-tech agriculture in association with restructuring the agricultural sector in the period 2020-2025, the province built 2,000 hectares of high-tech vegetables. Hopefully, in the coming time, the province will achieve the set targets, contributing to increasing incomes, improving people's quality of life, building a modern and sustainable agriculture./.
By Kim Ngoc – Translated by Duc Tam
Source: https://baolongan.vn/trong-rau-ung-dung-cong-nghe-cao-huong-di-dung-a120292.html