High dragon fruit price excites growers
The price of dragon fruit in Long An province continues to increase since export is stabilizing, making growers excited about high profits.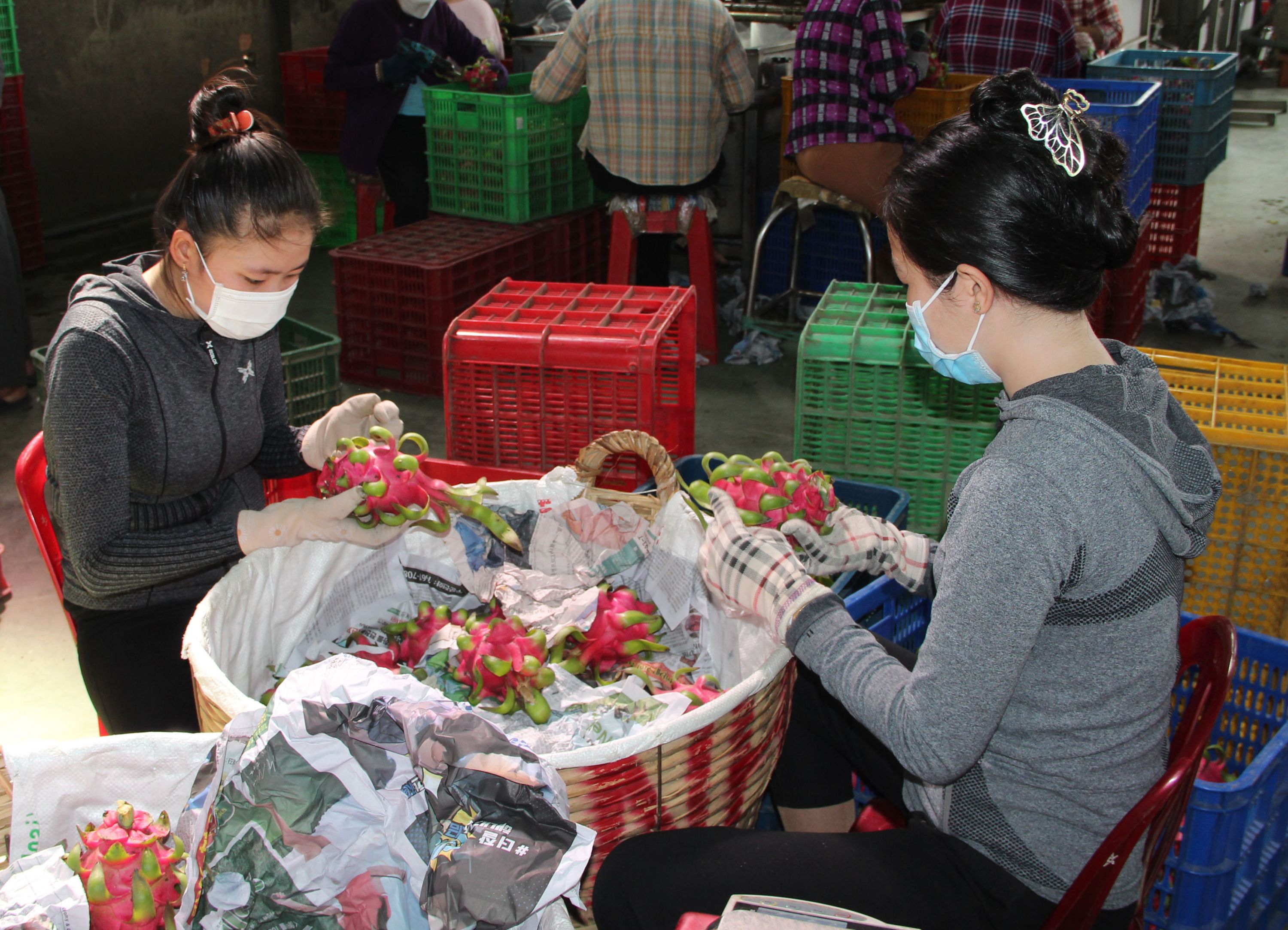 Workers preliminarily process dragon fruit at a warehouse in Chau Thanh district
Currently, white flesh dragon fruit and red flesh dragon fruit are purchased at the garden at a high price. Specifically, white flesh dragon fruit is purchased at the price of 11,000-13,000 VND/kg; Red flesh dragon fruit type 1 is from 40,000-43,000 VND/kg, grade 2 is from 35,000-38,000 VND/kg, grade 3 is from 30,000-32,000 VND/kg. With the above purchase price, growers are excited.
As the largest dragon fruit growing area in the province, Chau Thanh district currently has about 8,000 hectares of dragon fruit, of which the harvesting area is over 5,500 hectares. At the present, farmers area ctively take care of their crops. Mr. Nguyen Thanh Tuan (Phu Ngai Tri commune, Chau Thanh district) has just sold over 5 tons of dragon fruit for 35,000 VND/kg. After deducting expenses, he earned a profit of over 100 million dong. Mr. Tuan said: "After a long price-dropping time since the beginning of 2023, the price has increased again. This is the motivation for farmers to feel secure to invest and take care of dragon fruit gardens."
Having just harvested over 2 hectares of dragon fruit, selling for 35,000 VND/kg, Ms. Tran Thi Hong (An Luc Long commune, Chau Thanh district) shared: "After more than 2 years of low dragon fruit prices, making many people abandon their gardens due to losses, this year, the price has increased again. We are happy to have hit the season, but still very worried that the price of dragon fruit will drop again in the near future. Hopefully, all levels and sectors will have solutions to stabilize output for agricultural products."
At this time last year, dragon fruit was in full harvest, so the price dropped sharply, traders bought red flesh dragon fruit for only 2,000-4,000 VND/kg, white flesh dragon fruit for 5,000-6,000 VND/kg. Therefore, some people cut down old dragon fruit gardens to replant or switch to other crops. According to statistics from the Department of Agriculture and Rural Development, over 3,540 hectares of dragon fruit were destroyed by farmers due to low prices.
In order to maintain the area of dragon fruit, the Provincial Agriculture Department in collaboration with the local government focuses on propagating and mobilizing people to maintain the existing area of dragon fruit in the area as well as limiting the massive conversion to other crops when the product output is not stable. At the same time, the professional sector and the local authorities continue to transfer technical advances and new technologies into production to improve the productivity and quality of dragon fruit products to meet the requirements of export markets.
According to Director of the Department of Agriculture and Rural Development - Nguyen Thanh Truyen, the province currently has about 8,730 hectares of dragon fruit. Up to now, 226 planting area codes have been granted for dragon fruit to be exported to markets around the world. To remove difficulties for dragon fruit growers and help this crop develop sustainably, the current solution is to promote official export. In particular, the province must focus on improving product quality; manufacturing according to VietGAP, GlobalGAP standards; simultaneously transferring technical solutions to reduce costs in the time of high material prices; handling off-season and mobilizing farmers to join cooperatives to well implement consumption linkages. In addition, the Provincial Agriculture Department also advised the Provincial People's Committee to continue calling for investment in deep processing plants and cold storage in the near future./.
By Minh Tue - Translated by Q. Thien
Source: https://baolongan.vn/thanh-long-tang-gia-nguoi-trong-phan-khoi-a156725.html