Long An determines not to let Covid-19 disease occur
On April 3, Long An Provincial People's Committee held an online conference with localities to evaluate the results of implementing the prevention and control of Covid-19 disease, the prevention and fight against smuggling in the past time; simultaneously deploying the key tasks in the coming time.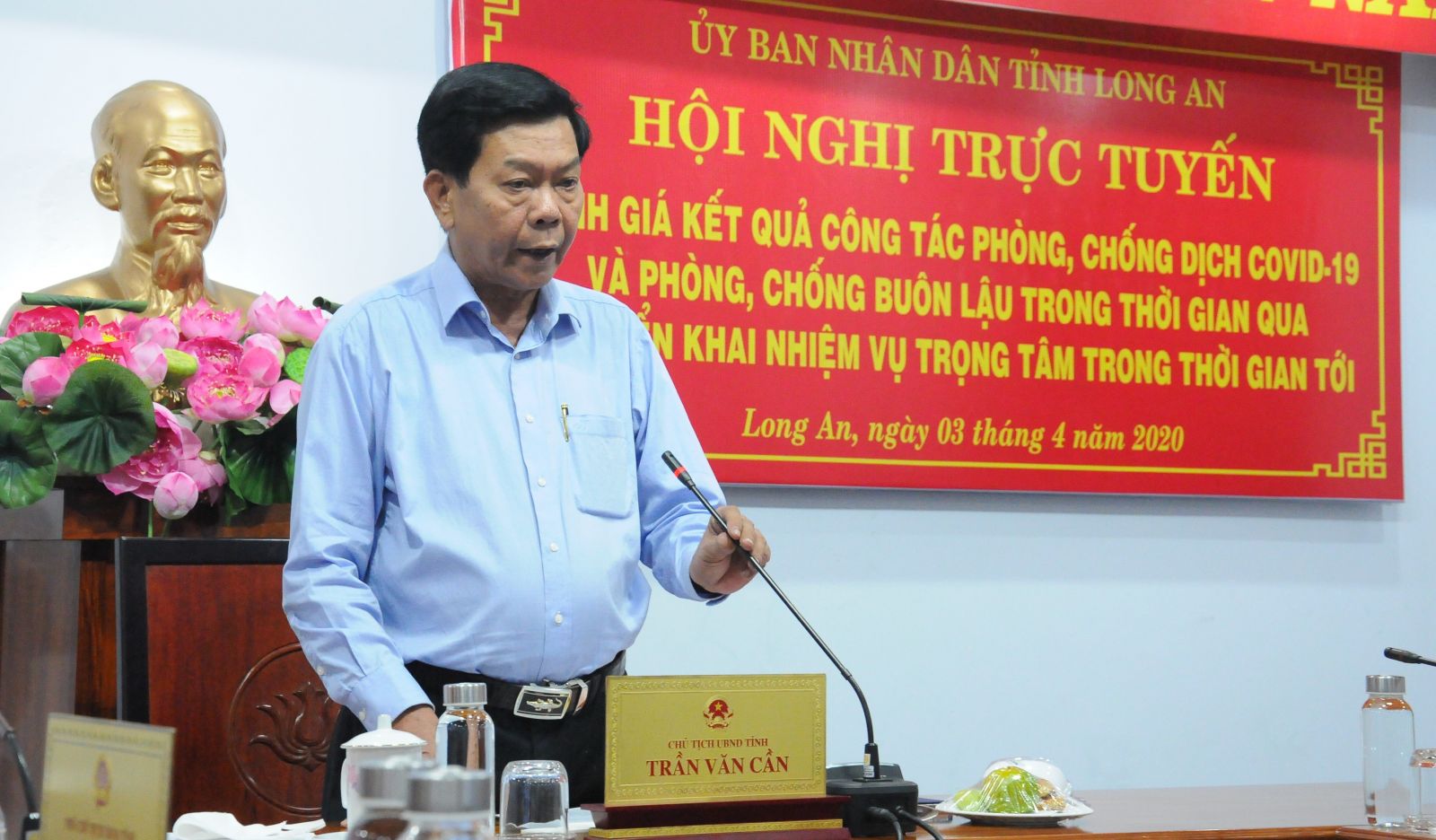 Deputy Secretary of the Provincial Party Committee, Chairman of Long An People's Committee - Tran Van Can deliveres a speech at the conference
Long An end-point bridge was held in 3 locations. The number of participants at each bridge point (provincial and district level) must not exceed 20 people and ensure a distance of 2 meters from the attendees.
Over the past time, the Provincial Steering Committee for preventing and fighting Covid-19 epidemic implemented drastically measures to prevent and control diseases such as Communication; disinfecting surfaces; spraying all schools with disinfectant; inspecting and supervising to support localities in implementing preventive measures; allowing students to stay at home; and not allowing people to gather in crowd. At the same time, services were suspended such as restaurant, karaoke; trade, people gathering in large numbers, handling and doing sanction for administrative violations.
Currently, Long An has 5 centers for concentrated isolation. Until the morning of April 3, the province still had 232 people isolated in concentrated isolation areas; 89 people were isolated at localities, residential areas and companies; 14 people were isolated in health facilities.
Long An has not recorded cases of Covid-19, but health facilities are ready for personnel, facilities, equipment, supplies, personal protective clothes and taking testing samples. At the same time, 13 more isolation areas are being deployed, with a scale of 5,000 people.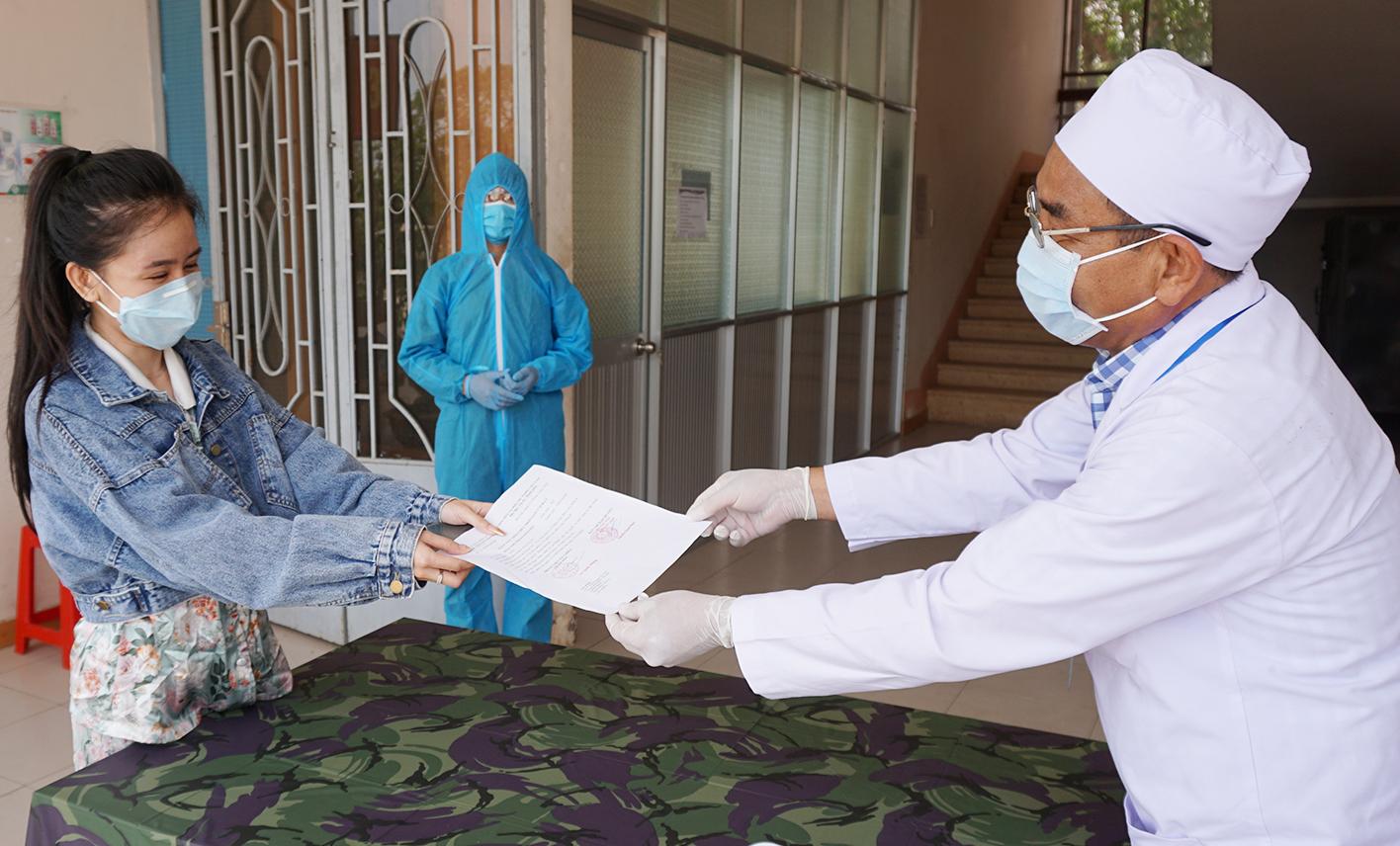 Health officials give certificates for cases completing concentrated isolation
In order to prevent the Covid-19 epidemic spreading from trading and immigration activities between Vietnam and Cambodia, the Border Guards coordinated functional forces to strictly control people, means and goods crossing the borderline, especially trails, open paths, routes of smuggling routes were the previous hot spots. Smugglers still stealthily bring goods (mainly cigarettes) because they take advantage of the dark night across the border although they are strictly controlled.
Accordingly, the police force arrested many people using cars to transport smuggled cigarettes. In particular, they successfully eliminated the gathering places of imported cigarettes to establish a large number in the domestic market, seizing more than 31,000 foreign cigarette packs, 1 car and detaining 2 related people. In Quarter I/2020, functional forces inspected more than 2,300 cases, handled violations of 700 cases. The total amount collected and remitted to the budget is nearly 130 billion VND.
At the conference, delegates reported some difficulties and proposed solutions in preventing and controlling epidemics and smuggling in the coming time.
Speaking at the conference, Deputy Secretary of the Provincial Party Committee, Chairman of the Provincial People's Committee - Tran Van Can proposed: "All levels, sectors and localities should promote the results in the past time; continue to implement disease prevention and control strictly according to 5 principles (to prevent, detect, isolate, localize and stamp out epidemics), and determine not to let epidemics occur in the locality.
Departments, sectors and localities continue to thoroughly grasp the direction of the Government and the provincial People's Committee so that people can see and prevent Covid-19 as an obligation and a responsibility of each person. Local leaders assign monitoring forces in the community to promptly detect cases of strangers entering the locality as well as cases of suspected illness. Heads of sectors, units and localities are consistent in speaking and providing timely and accurate information to the media, strictly handling cases of spreading false information, causing panic in public opinion.
The health sector has a plan to respond promptly and develop change scenarios suitable to the actual situation; mobilize all resources to participate. Health facilities need to strictly manage patients, their family members, have a flow control plan at the hospital gate.
In addition, all levels, sectors and localities must be highly determined, drastically direct, promote propaganda and inspection, control and view the fight against smuggling and trade frauds as an important task; all trails and open paths are needed to block to prevent illegal entry and exit./.
By Ngoc Man – Translated by Duc Tam
Source: http://baolongan.vn/long-an-quyet-tam-khong-de-dich-benh-covid-19-xay-ra-tren-dia-ban-a92952.html