People's Army newspaper praised for its contributions to national development
Prime Minister Nguyen Xuan Phuc has spoken highly of the positive contributions made by the Quan Doi Nhan Dan (People's Army) newspaper to the overall achievements of the country and the army in particular.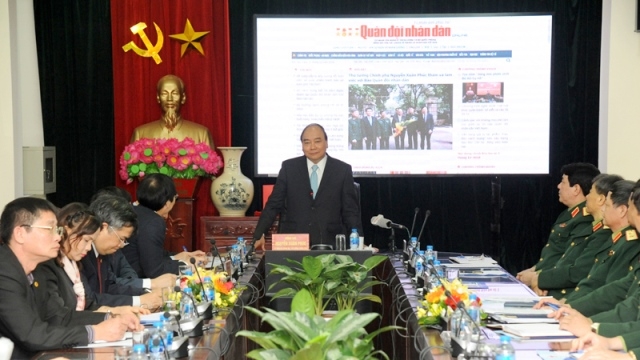 Prime Minister Nguyen Xuan Phuc addressing the event (Photo: NDO/Tran Hai)
While visiting the board of editors, journalists, editors, and staff of the newspaper on December 21, PM Phuc hailed that the newspaper has promoted a vivid image of Uncle Ho's soldiers to readers and honoured the glorious and heroic traditions of the Vietnamese People's Army.
As the organ of the Central Military Commission and Ministry of Defence, the voice of armed forces and people, the newspaper has established itself as one of the leading units in the fight against corruption and negative phenomena, with many frequent and informative articles, while contributing to popularising the messages of the Party, State and Central Military Commission to the entire army and people, he stressed.
The newspaper was also applauded for timely applying advanced technology in its publications and raising the qualifications of its staff.
As a bridge connecting the people and armed forces, the newspaper was requested to play the vanguard role in safeguarding the sound guidelines and viewpoint of the Party, Marxism-Leninism, President Ho Chi Minh's ideology, and the goal of the national independence and socialism.
The Quan Doi Nhan Dan newspaper published its first issue in 1968. The newspaper currently has five different publications including Quan Doi Nhan Dan Daily, Quan Doi Nhan Dan Weekend, Su Kien Va Nhan Chung (Events and Witnesses) Monthly, and Quarterly Bulletin, plus Quan Doi Nhan Dan Online, which is available in the five languages of Vietnamese, English, Chinese, Laos, and Khmer./.
NDO