Proactively removing difficulties for businesses
"We must actively work and learn to promptly remove obstacles and difficulties for businesses, thereby promoting the growth of the province" Chairman of the Provincial People's Committee - Nguyen Van Ut directed at the May Regular Meeting.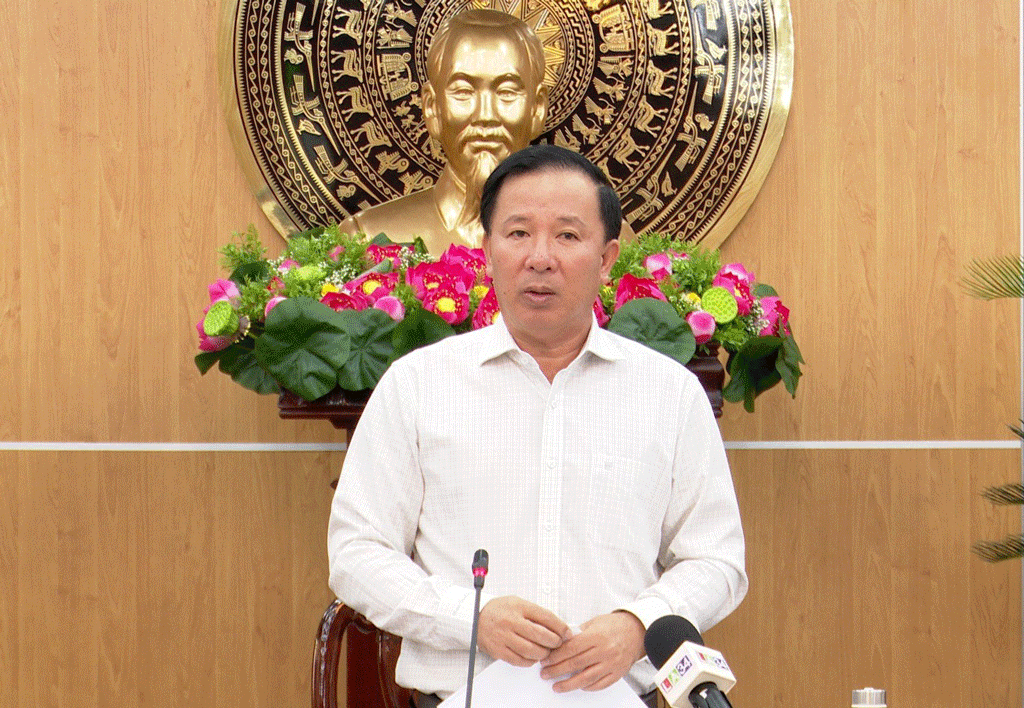 Chairman of Provincial People's Committee - Nguyen Van Ut directs to proactively remove difficulties for businesses
On June 6, Chairman of Provincial People's Committee - Nguyen Van Ut chaired the May 2023 Regular Meeting held online with districts, towns and cities in the province. Attending at the provincial bridge were Vice Chairman of Provincial People's Committee Nguyen Minh Lam, Pham Tan Hoa, Huynh Van Son and leaders of provincial departments and agencies.
At the meeting, Acting Director of Department of Planning and Investment – Truong Van Liep reported on the implementation of the socio-economic development plan; disbursement progress of public investment capital in May 2023. Accordingly, in May, the province has stepped up investment promotion activities at local and abroad, enhanced connection and cooperation activities with foreign organizations, associations and businesses to introduce the provincial investment environment. Industrial production activities in the province gradually returned to stable operation; industrial production index in May is estimated to increase by 1.21% over the previous month, an increase of 0.23% over the same period; The cumulative index of industrial production in the first 5 months of the year increased by 2.91% over the same period.
Besides, compensation and site clearance, since the beginning of the year, has completed 133 hectares, reaching 14.3% of the plan, of which, the public investment project is 60.5 hectares; off-budget investment project is 72.4 hectares. Total budget revenue is estimated to be low, as of May 25, 2023, it reached 8,373 billion VND, 41.5% of the provincial estimate, a decrease of 19.1% over the same period.
"Up to now, the Provincial People's Committee has allocated 9,153.2 billion VND of public investment capital; As of May 24, 2023, 3,669.5 billion VND has been disbursed, reaching 40.09% of the plan (the same period disbursed 21.85% of the plan),etc. However, there are still some investors who have not disbursed." said Mr. Truong Van Liep.
At the meeting, leaders of departments, branches and localities also informed about many contents related to budget collection, compensation, site clearance, production, business situation and implementation of projects, the preparation for the high school graduation exam in 2023 and the entrance exam for 10th grade,etc.
Chairman of the Provincial People's Committee - Nguyen Van Ut requested that all departments and sectors analyze and evaluate to clarify limitations, shortcomings and difficulties in various fields in order to proactively have solutions to remove them timely. All departments and branches need to uphold and better perform the advisory role in direction and administration, and at the same time, pay attention to well implementing complaint settlement, especially in the field of land.
In June and the remaining months of 2023, he requested all departments and branches to uphold the sense of responsibility, promote their roles and functions in performing tasks; drastically, focus on well implementation of budget collection. In particular, attention should be paid to all departments and sectors to actively grasp and remove difficulties and obstacles for businesses.
"We must not wait for businesses to complain, reflect difficulties. We need to be proactive. Accordingly, it is possible to set up delegations to work and learn about obstacles and difficulties to solve for businesses. It will promote the growth of the province" Chairman of the Provincial People's Committee - Nguyen Van Ut emphasized.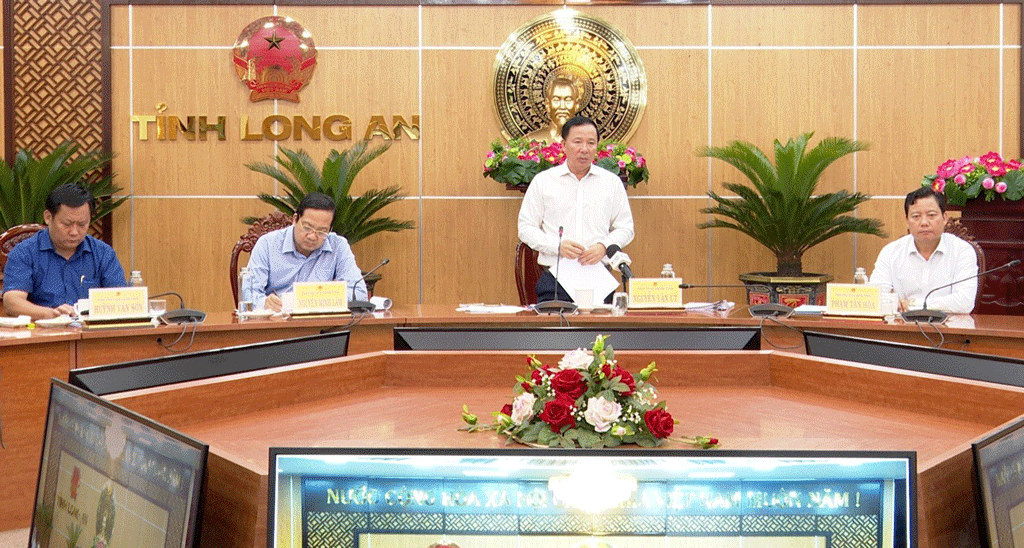 The meeting is held online with localities
At the same time, Chairman of Provincial People's Committee also directed to strengthen activities to support and develop enterprises, promote production and business; remove difficulties and obstacles in order to timely disburse public investment capital. Departments, branches and localities need to actively coordinate in reviewing, inspecting, and proposing to handle slow or non-implemented investment projects; lead and direct drastically and effectively in the implementation of compensation, site clearance and resettlement, speeding up the implementation of projects in the areas under management.
Along with that, all departments and sectors need to pay attention to well implement disease prevention and control, and take care of people's health, because recently a number of diseases such as dengue fever, tuberculosis, HFMD has a strong tendency to increase; advise and perform well the preparation and organization of important provincial events coming up in June such as the announcement of the provincial planning, the commencement of construction of Ring Road 3 of Ho Chi Minh City - the section through Long An and the reception of Ho Chi Minh medal.
Chairman of Provincial People's Committee also directed the implementation of effective solutions to drastically improve the business environment and enhance the province's competitiveness; monitor the implementation progress, promptly propose the Provincial People's Committee to remove difficulties and obstacles in key investment projects, strengthen investment promotion and support; continue to develop and complete a set of indicators to assess competitiveness at departmental, sectoral and local levels; strengthen the implementation of the plan to improve business environment and raise the PCI index in 2023; implement the plan to improve the efficiency of administrative reform,etc./.
By Staffs - Translated by Q. Thien
Source: https://baolongan.vn/can-chu-dong-thao-go-kho-khan-cho-doanh-nghiep-a156745.html