Investors selected to implement projects of Long An I and Long An II power plant
Director of the Department of Industry and Trade of Long An - Nguyen Anh Viet said that the province is implementing the procedures to select investors to implement the projects of Long An I and Long An II power plants. Currently, the announcement of investor selection has been publicly and widely announced.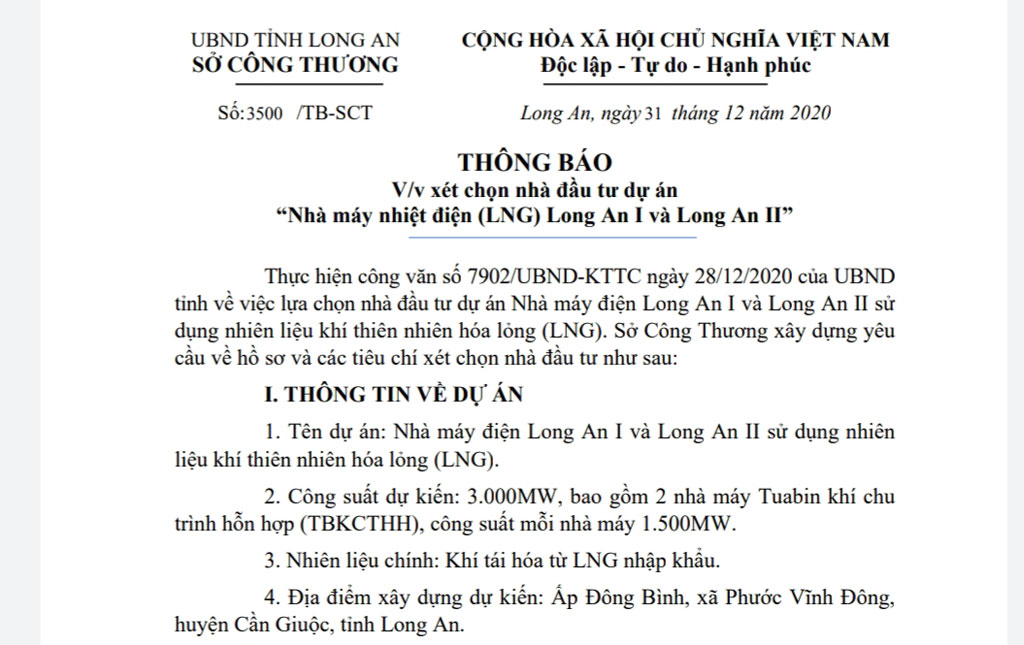 Notice for selecting investors
Accordingly, Long An province has issued a notice for investors to submit their dossiers, then the authorities will review and select suitable investors to implement the project. Investors who need to implement the project must have legal status; demonstrate financial capacity; present investment objectives, investment scale, investment capital and capital raising plan; project implementation location, deadline and schedule; labor demand; proposal for investment incentives; the project's socio-economic impact and efficiency, preliminary assessment of the environmental impact in accordance with the law on environmental protection.
The functional sectors of Long An province will evaluate the selection of suitable investors based on the criteria of legal status, financial capacity, specialized capacity and experience, ability to implement projects to meet the requirements demand for electricity generation progress, etc.
Long An province will prioritize the selection of experienced and capable investors and ensure technological and environmental factors to implement the two above power plant projects.
According to the Long An Department of Industry and Trade, the Long An I and Long An II power plant projects using liquefied natural gas (LNG) fuel have a total expected capacity of 3,000 MW, including 2 gas turbine plants with mixed cycle. The capacity of each plant is 1,500MW.
Estimated total investment of two power plants and LNG storage system is about 3.13 billion USD. After implementing the project steps, the Long An I power plant will come into operation in December 2025, the Long An II power plant will operate in December 2026.
Projects of Long An I and II power plants were approved planning from 2016, using imported coal materials. However, the use of this material is not supported by the local people and authorities due to concerns about negative impacts on the environment, emissions, ash, etc.
Therefore, the People's Committee of Long An province has issued a written petition and approved by the Prime Minister to adjust the Long An I and II power plant projects from using coal to LNG fuel./.
By Le Duc – Translated by Duc Tam
Source: https://baolongan.vn/chon-nha-dau-tu-thuc-hien-du-an-nha-may-dien-long-an-i-va-long-an-ii-a108005.html