New direction of Long An People's Committee on Covid-19 epidemic prevention and control
Vice Chairman of Long An People's Committee - Pham Tan Hoa has just signed Document No. 7232/UBND-VHXH, dated December 2, 2020 to departments, agencies, branches, unions, agencies, units, People's Committees of districts and town and city in the province on strengthening the Covid-19 epidemic prevention and control and the supervision and management of inbound persons.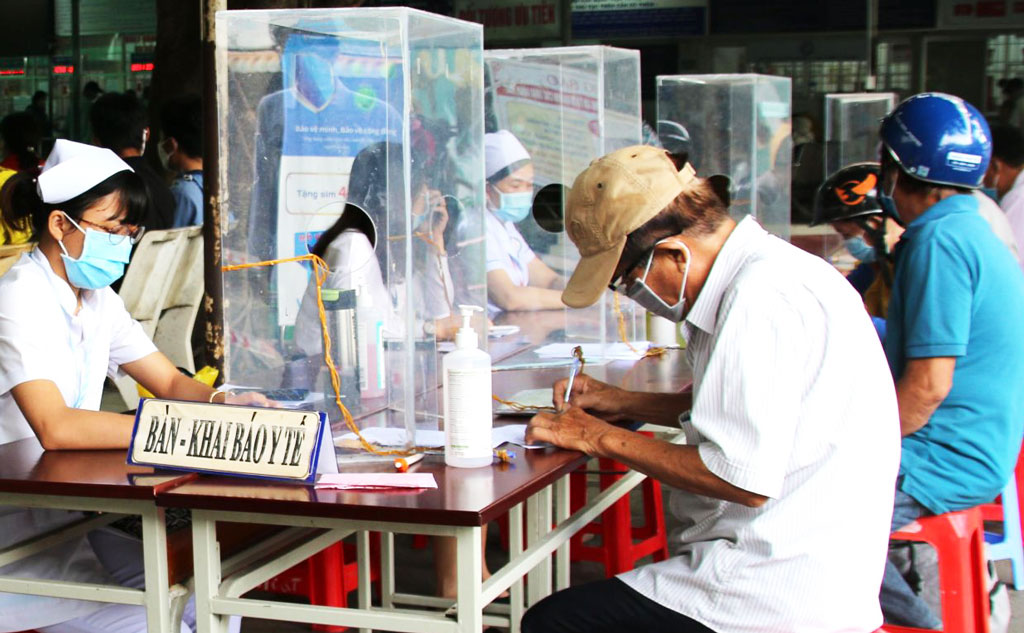 Medical declaration is implemeted at Long An General Hospital
Accordingly, the provincial People's Committee requires leaders of departments, sectors, unions of the province, the People's Committees of districts, Kien Tuong town, Tan An city to seriously and fully implement the directions of the Prime Minister and the National Steering Committee for Covid-19 epidemic Control and Prevention.
The province continues to thoroughly grasp the spirit of "preventing epidemic is like fighting agaisnt enemy", upholding the sense of responsibility, being not subjective, neglect or low guard; gathering all resources to ensure disease prevention and control effectively.
In addition, the units proactively and drastically prevent, quickly detect and strictly control the source of the disease transmission (both within the province and from abroad); organize the isolation or supervision of people who have contact with patients according to the instructions of the Ministry of Health.
At the same time, the units strictly control inbound people such following measures as strengthening the control of people entering through border gates, trails and openings on the provincial border; making compulsory medical declaration for all passengers entering Vietnam according to regulations, managing the declared information closely and effectively and detecting early to quarantine cases arriving or passing epidemic area; strictly manage entry activities, ensure safety, inspect, detect and promptly handle the infectious risk from abroad through entry.
Applying the suitable quarantine measures to all entries coming from or through epidemic zones at quarantine establishments; performing screening and applying measures to prevent and control epidemics suitable for each type of cases in isolated areas, to prevent cross-contamination; closely monitor and supervise the health of at home and residence for those who have completed concentrated isolation period; and resolutely handle strictly violating schools according to regulations.
Department of Health closely monitors epidemic developments, actively coordinates with relevant units to promptly advise and propose the Provincial People's Committee to direct the implementation of effective disease prevention and control measures, and mobilize all resources are focused on disease prevention and control.
At the same time, it coordinates with the Department of Information and Communication, People's Committees of districts, towns, cities, Long An Newspaper, Long An Radio and Television to promptly, fully, publicly and transparently inform about epidemic situation of cases under concentrated isolation or medical supervision, and health monitoring in the community in accordance with regulations.
The Provincial People's Committee requested that the Vietnam Fatherland Front Committee of the province and mass organizations direct in the system to actively coordinate with authorities at all levels, especially the grassroots authorities to effectively mobilize the people to comply with disease prevention and control measures; seriously implement quarantine and medical supervision, promptly detect suspected cases; promptly inform authorities when detecting strangers arriving in residential areas; mobilizing the entire population to raise awareness and strengthen self-protection activities./.
By Pham Ngan – Translated by Duc Tam
Source: https://baolongan.vn/chi-dao-moi-cua-ubnd-tinh-long-an-ve-phong-chong-dich-covid-19-a106393.html