New-style rural, new people
In order to successfully implement the National Target Program (NTP) on new-style rural construction (NRC), there must be new people. These people are always conscious and responsible for themselves, their families, society and live meaningfully and lovingly.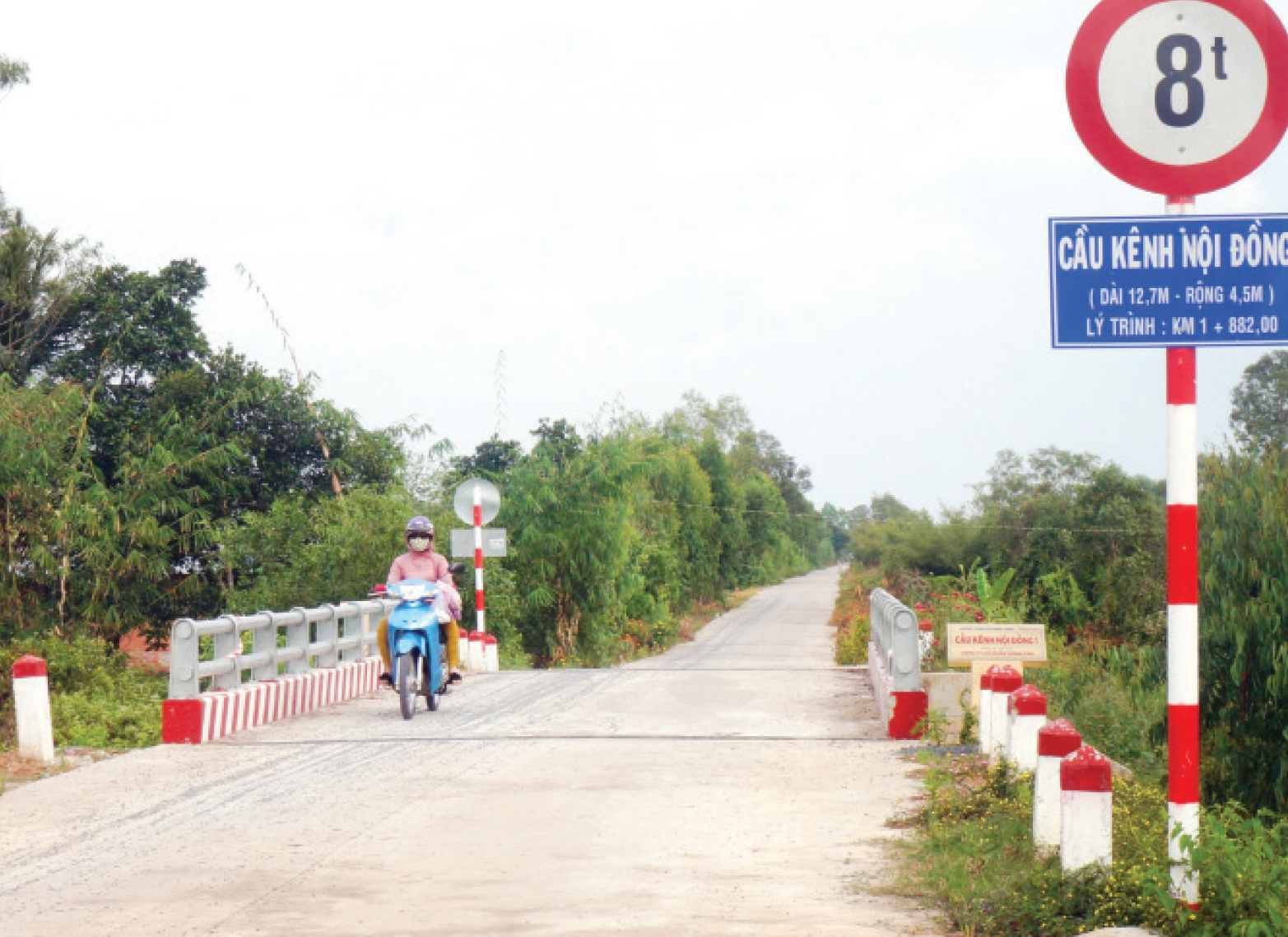 Many rural roads have been invested and expanded from the support and donation of people's land
Spreading good deeds, good acts
The NTP on NRC with 19 criteria (including many indicators) covers most of the fields of socio-economic, defense - security, production, etc. Deputy Director of the Department Long An Agriculture and Rural Development - Nguyen Chi Thien assessed: "Over the time of implementing the NRC program in the province, many outstanding results and achievements have been achieved in various fields. The program became a task, an emulation movement, spreading throughout the political system and the people".
Participating in the program, regardless of the rich or poor, young or old, people can contribute their wealth or labour, together implement the criteria; in which, they do not dump garbage or discharge waste causing environmental pollution; obey the law well, live by good examples, maintain solidarity in the community, build a happy family; emulate in working and production, legitimate enrichment, so on are also contributing to the NRC.
In order to successfully implement the NRC program, there must be new people. Those are the people who are always conscious and responsible for themselves, their families and society. Over the past time, in the province, there have been many typical individuals and collectives in the NRC. That is the family of Mr. Nguyen Van Thoi (Vinh Dai commune, Tan Hung district) who donated nearly 5 hectares of land to build rural roads and irrigation. In addition to donating land, Mr. Thoi also actively participates in charity and social activities in the locality. Or Mr. Nguyen Van Tong - Chairman of the Elderly Association of Binh Hoa Nam commune, Duc Hue district, has just been praised for being a typical example of studying and following Ho Chi Minh's ideology, morality and lifestyle. Over the past 5 years, he actively mobilized members and people to donate 1,050 square meters of land and money worth more than 2 billion VND to build rural roads.
And Mr. Bui Thanh Duoc (Tan Chanh commune, Can Duoc district) overcome difficulties to get rich with the project of producing lepironia articulata straws. As a biodegradable and environmentally friendly product, lepironia articulata straws are trusted by many people. On average, each month, his establishment supplies more than 100,000 lepironia articulata straws to store chains and exports to European countries. They not only earned high profits for themselves, the establishment also contributed to creating regular jobs for 10 local workers with stable income.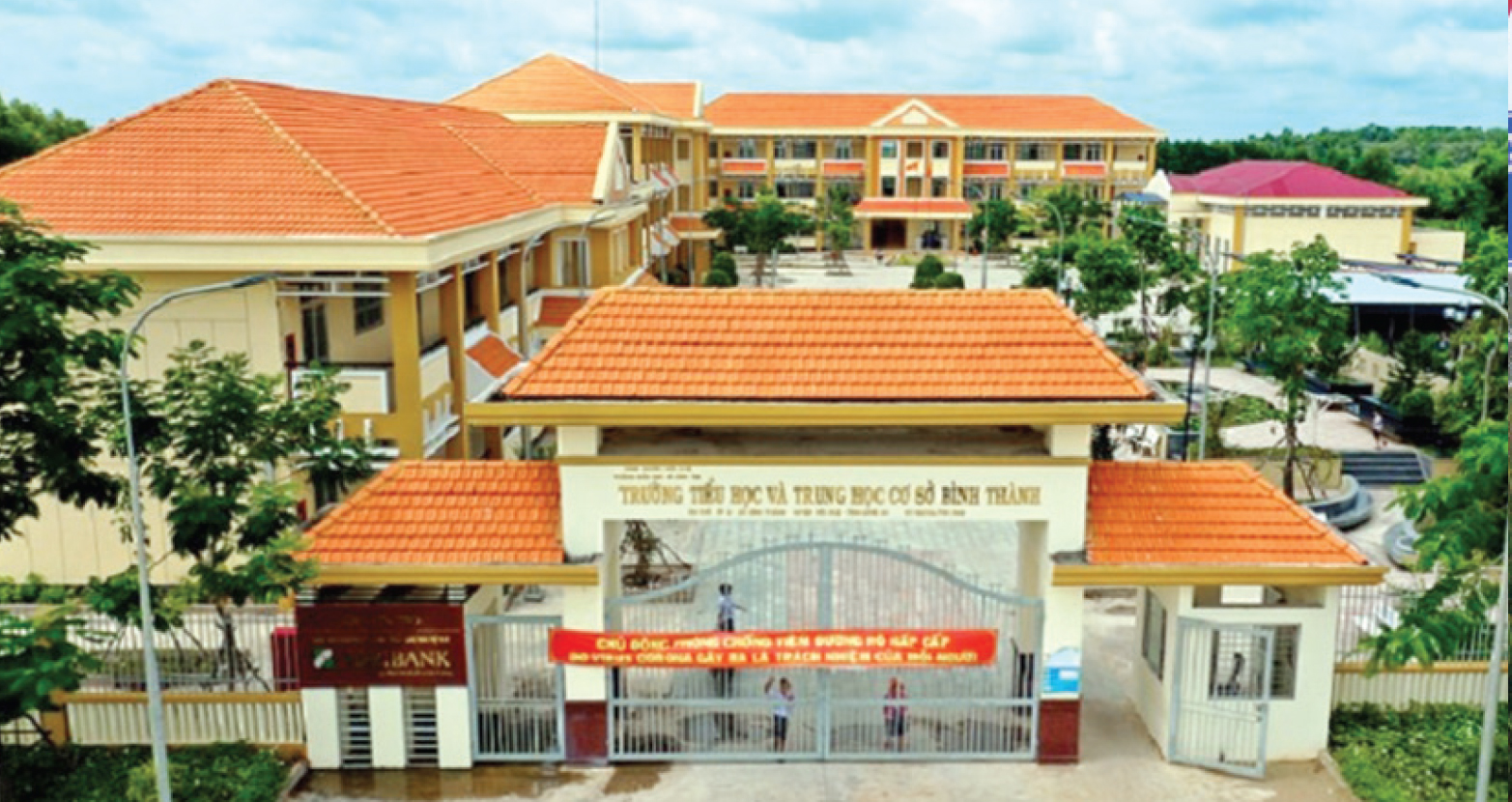 Rural infrastructure is invested more and more spaciously (Illustrative photo)
The new people in the NRC are also expressed through helping and supporting each other. From the end of June 2021 up to now, in Can Giuoc district, a volunteer group led by Mr. Thai Thanh Trieu has gathered a number of young people to join in supporting difficult people due to the Covid-19 epidemic. The group itself contributed and mobilized funds to buy vegetables, tubers and fruits to open a "Zero-VND shop", providing free of charge to the people. On average, the stall serves 600-700 kilos of vegetables, tubers and fruits per day, about 1,000 kilos on top days.
Like many other inn-owners, recently, Ms. Nguyen Thi Ty (an inn-owner in Thanh Phu commune, Ben Luc district) rent for 32 rooms freely in order to share with tenants' difficulties due to the impact of the pandemic. She also buys necessities to support tenants. "This support is an encouraging source for everyone to try to overcome the pandemic" - Ms. Ty shared.
Less disputes, more affection
Besides the positive results, there are still "disputes" in the lives of rural people that have been resolved and overcome. "In the countryside, in daily conversation and communication, many people still say rude and vulgar words that cause discomfort to listeners and affect children" - Mr. Le Van The (Tan Tay commune, district district). Thanh Hoa) said. This has affected the construction of a civilized lifestyle. Or the situation of indiscriminate littering in public places, causing water pollution still occurs. There are places where outdated customs still exist, the funerals and weddings are held lavishly and expensively; The state of live music singing loudly at the wrong time affects the community, causing a lot of frustration, etc.
Mr. Nguyen Van Chuong (Nhi Thanh commune, Thu Thua district) acknowledged that there were still shortcomings in the process of development in rural areas. Social evils, drugs, gambling and crimes of theft, fraud, robbery, intentionally causing injury, murder, rape, so on also occurred, causing anxiety among the people and affecting security and social order. The insensitive, petty, selfish, jealous and envious lifestyle among neighbors, neighborhoods and relatives, leading to painful consequences, also occurred in some rural areas.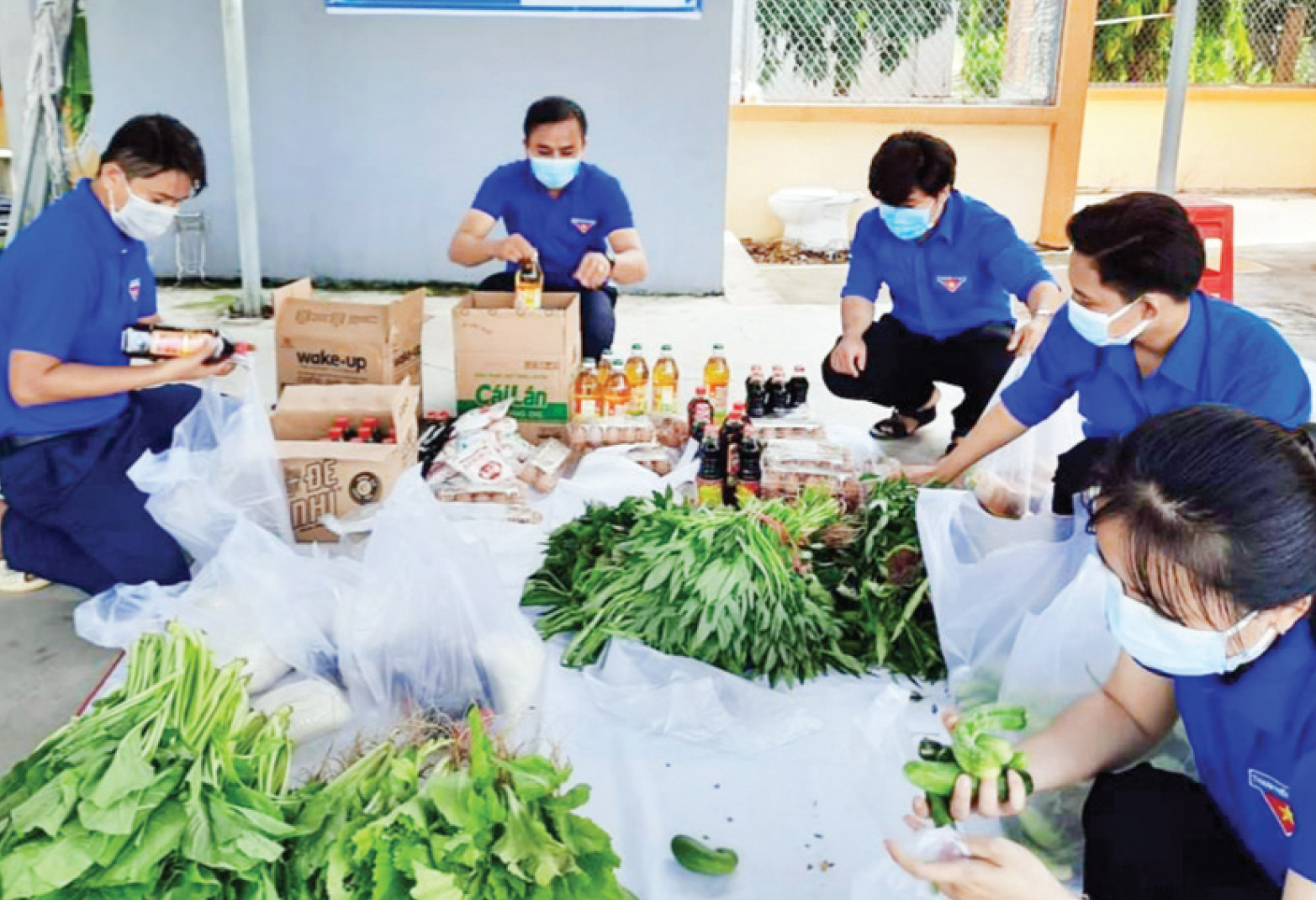 During the epidemic, union members and young people in the communes have many meaningful activities and jobs such as giving vegetables, tubers and fruits to people
People are the main subjects of the NRC program. In addition to developing production, improving life, creating a new appearance for the village, the beauty, moral and cultural values must always be preserved, promoted and spread. The new-style rural must be associated with ethical acts, deeds and behaviors of people. In community relations, there must be less disputes and more affection. The selfish, narrow lifestyles affecting the quality and living environment in rural areas must be curbed, repelled and prevented./.
By Le Duc – Translated by Duc Tam
Source: https://baolongan.vn/nong-thon-moi-con-nguoi-moi-a122565.html