Patriotic emulation movement leads driving force for development
Responding to President Ho Chi Minh's call to emulate the patriotism of President Ho Chi Minh, under the leadership of the Party and authorities, in the period 2015-2020, the Long An people enthusiastically emulated many outstanding achievements, this creates an important impression and contributes to the development of the locality.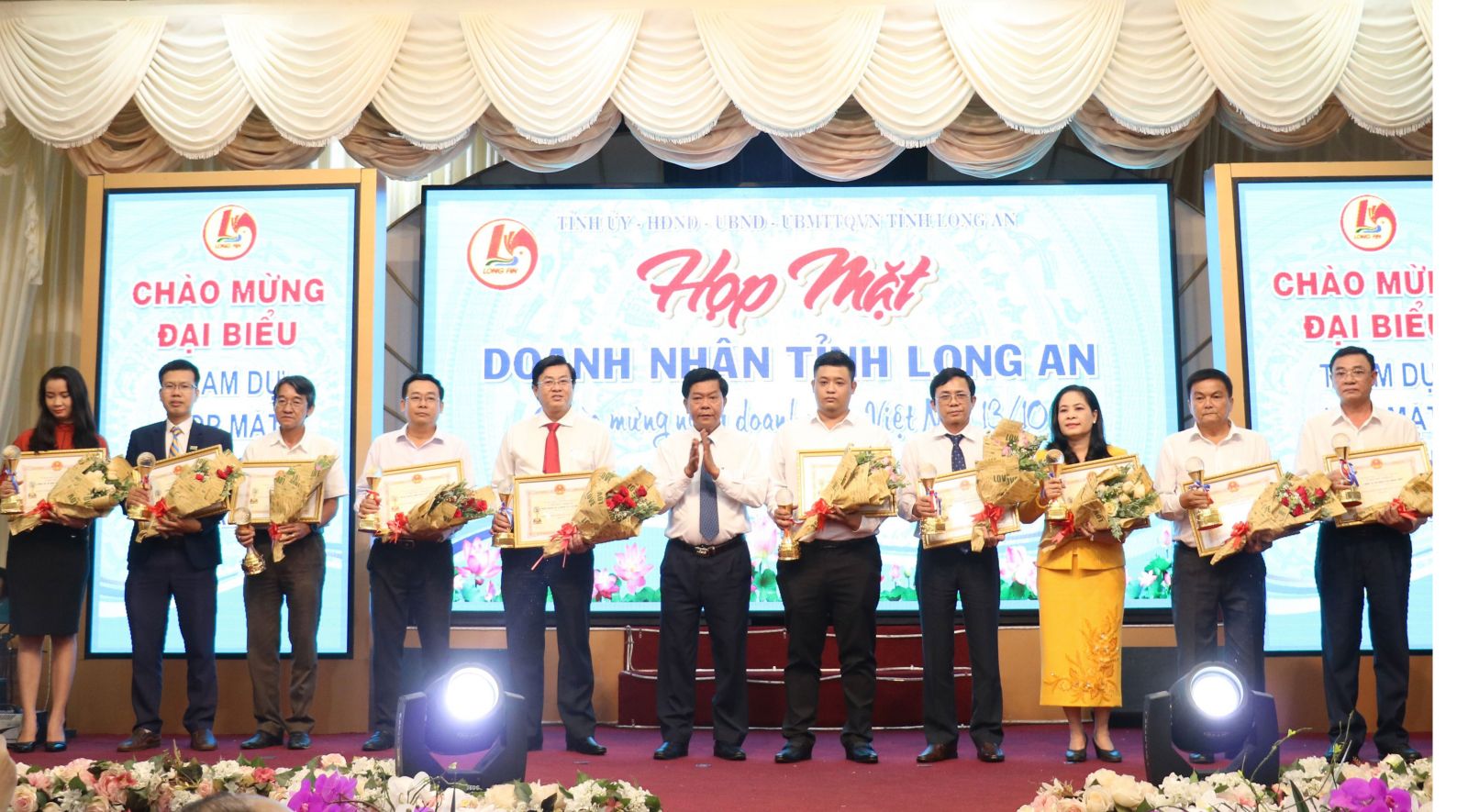 Chairman of the Provincial People's Committee, Chairman of the Provincial Emulation and Commendation Council - Tran Van Can awards businesses
Many outstanding emulation movements
In recent years, all levels and branches have focused on emulation to implement four emulation movements of the Prime Minister; successfully implemented 2 breakthrough programs, 3 key projects of the Resolution of the Xth Provincial Party Congress; promoted civil service reform and state administrative reform, improved the efficiency and effectiveness of management of the government at all levels; reorganized and step up the implementation of the one-door mechanism, one-door mechanism in settling administrative procedures at all levels and branches. Since then, there have been many outstanding movements: good farmers produce and do business; excellent labor force; typical businessmen; two good women; youth volunteers; exemplary veteran; typical cultural family; family is fond of learning; typical of living "a good life"; typical humanitarian blood donation, contribution to building rural technical infrastructure. In which, the movement of Long An joining forces in building a new-style rural; Long An joined hands for the poor, not letting anyone be left behind; emulate learning and follow Ho Chi Minh's ideology, morality and style; emulation of economic development, etc.
In the production sector, there is a strong shift in rice growing areas or low efficiency crops to other crops and livestock, bringing higher economic efficiency. This emulation movement has appeared many typical examples and models. That is the laser field leveling of Mr. Luu Van Hoai, living in Khanh Hung commune, Vinh Hung district; growing Vica seedless lemon by Mrs. Bui Thi Ba, living in Luong Hoa commune, Ben Luc district; rice production, agricultural service machinery of Mr. Nguyen Van Thoi, living in Vinh Dai commune, Tan Hung district; the creation of production techniques for agricultural machinery of the labor hero of the renovation period Bui Huu Nghia, Mr. Tran Trong Duc, Thu Thua district; growing vegetables by Mr. Tran Tiet Giao, Phuoc Hau commune, Can Giuoc district; etc. Over the past 5 years, 23 farmers have been awarded with Certificates of Merit by the Prime Minister.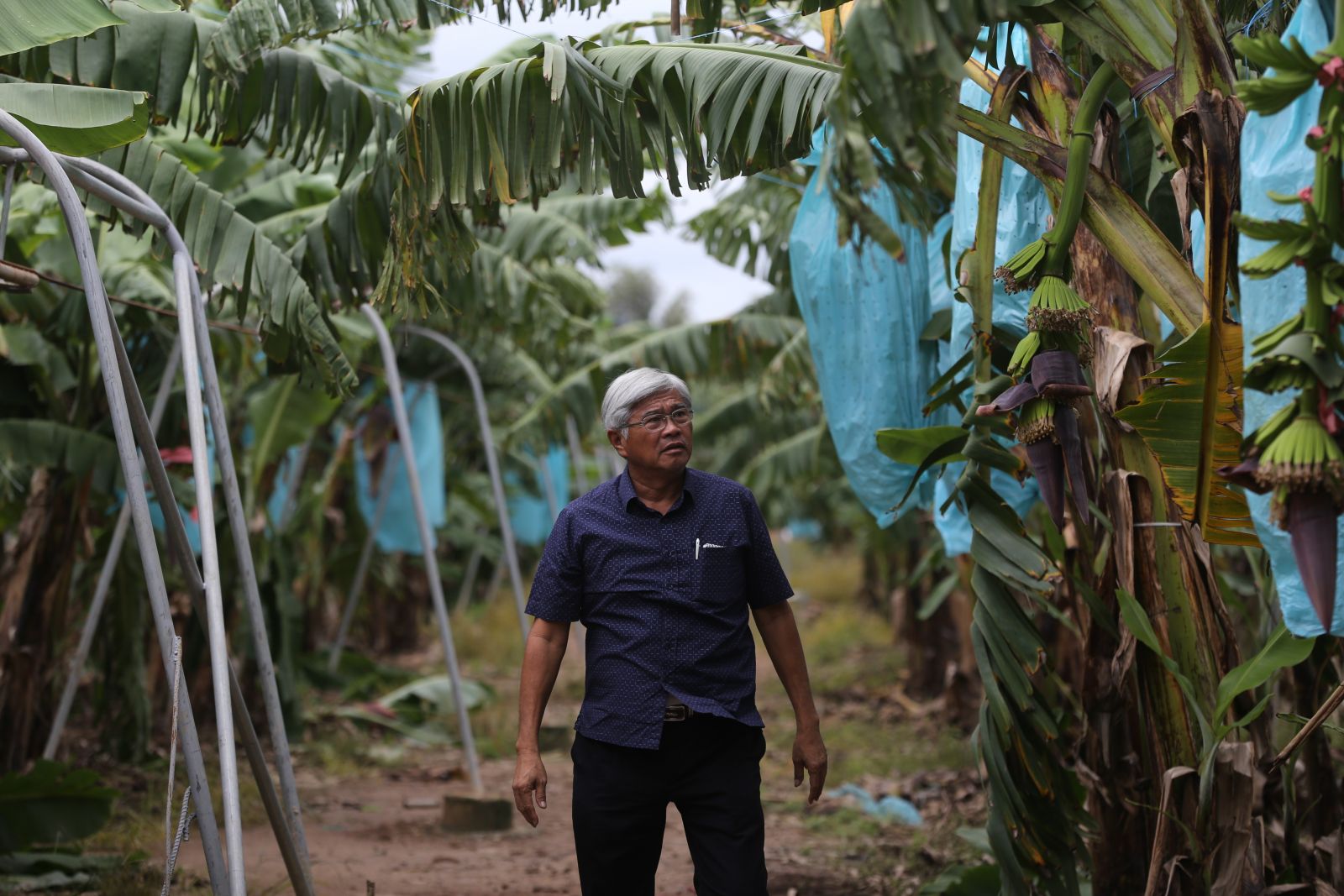 From a farmer facing many difficulties, Mr. Huy has built a career like today
Referring to Mr. Vo Quan Huy (Director of Huy Long An-My Binh Co., Ltd, located in My Binh commune, Duc Hue district), many people immediately think of "billionaire farmers" overcoming difficulties, dare to do and create. He was born in a poor family, he always bears in his mind a dream for changing life. Many times, planting sugarcane failed but he was still not discouraged, trying to renovate the dead land to have green sugarcane fields. Also on this land, he continued to change direction and expand production by growing chili, mango, watermelon, cow, etc.
At the age of 60, he continued to research and start growing bananas. He invested more than 100 billion VND to plant 200 hectares of banana and registered Fohla trademark (Fruit of Huy Long An). Currently, Fohla has been present in many markets around the world, including fastidious markets such as Japan and Korea. With these efforts, up to now, he owns more than 1,000 hectares of land in many other localities in the southern region. In 2015, he was voted "Excellent Vietnamese Farmer", Folha Banana was voted as "Vietnam Gold Agricultural Brand 2016" and many other awards and honors, etc. Not only success in agricultural business, he also supported and created jobs for many farmers in difficult circumstances.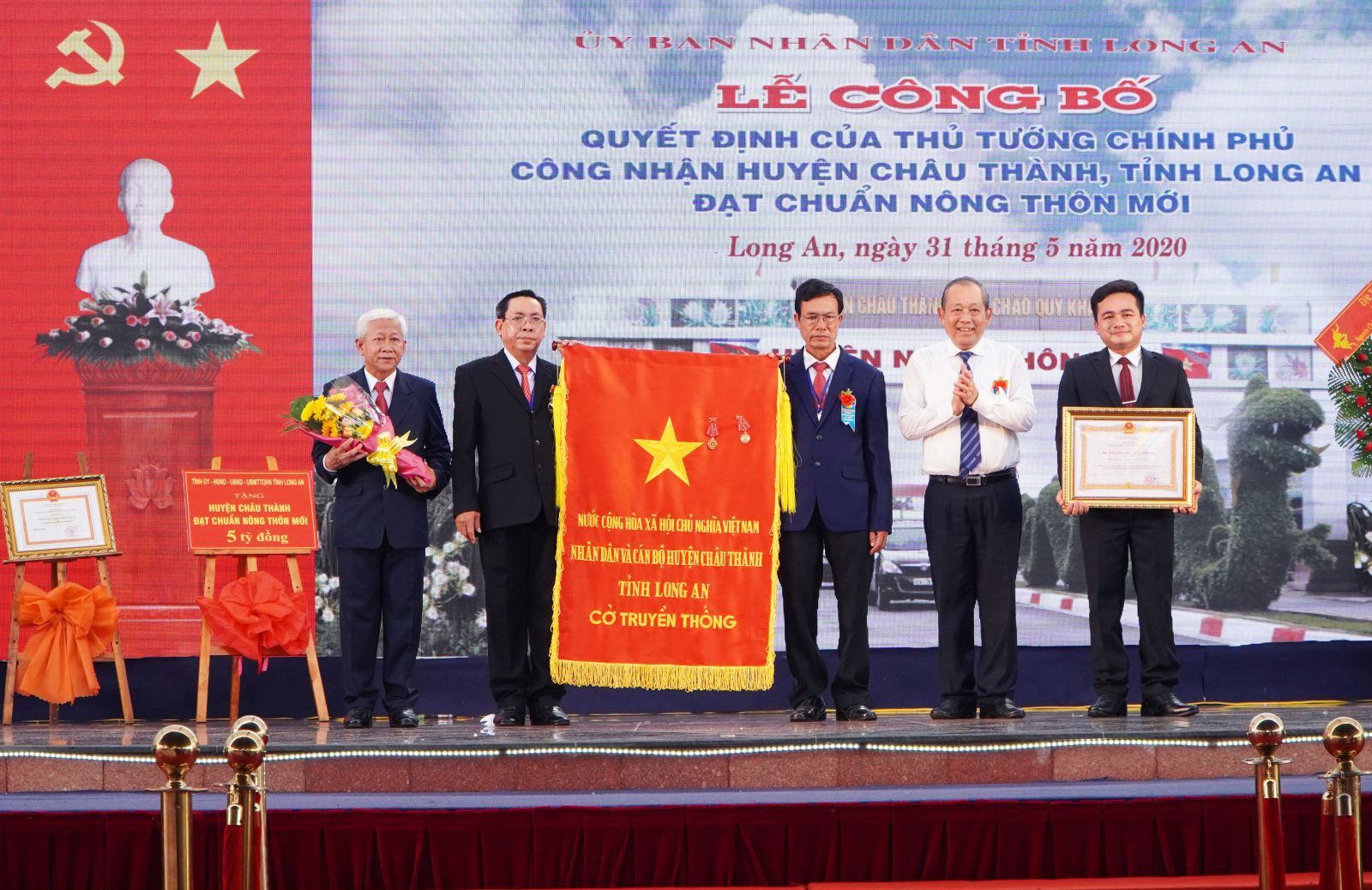 Chau Thanh meets the standards of a new-style rural district
Contributing to socio-economic development
In the past years, the country has created the driving force and spread in the social life. One of them must be mentioned the movement "Long An Enterprise with integration and development". Through the summary, the Provincial People's Committee praised 96 outstanding enterprises for winning trophies and emulation flags of the provincial People's Committee and praised and rewarded 503 typical enterprises in the provincial enterprise emulation block; thousands of households engaged in production and business have well fulfilled the tax obligation, and were rewarded by the Chairman of the Provincial People's Committee.
Tan Dong Tien Joint Stock Company was established in 2003, it is one of the leading companies producing and exporting rice, sticky rice of all kinds in the province and nationwide. The company became a member of the Vietnam Food Association since 2005, and was granted the certificate of eligibility for rice export business by the Ministry of Industry and Trade since 2011. Over the years, the company has been constantly developing, exploring and promoting to increase export output sharply. Company is promptly equipped with a full range of machines, rice and rice production lines to produce the fastest, best such as silo, color separator, polishing machine, milling machine, packing machine, conveyor belt, etc. Every day. The company can produce more than 1000 tons and meet delivery needs within 3-7 days.
According to Chairman of the Board of Directors, General Director of Tan Dong Tien Joint Stock Company - Nguyen Thanh Muoi, after 17 years of establishment, the company is now one of the largest rice exporters in Vietnam to many countries. Currently, the company exports about 350,000 tons of rice to the Philippines, Malaysia, Indonesia, Hong Kong (China). In addition to the above markets, Tan Dong Tien's rice is also exported to Europe, etc.
Chairman of the Provincial People's Committee, Chairman of the Provincial Emulation and Commendation Council - Tran Van Can said that, in the past 5 years, all levels and branches have well grasped the Politburo's Directive 34 on continuing to innovate and promote the patriotic emulation movements, discover, foster, review and replicate the advanced examples. At the same time, it organizes emulation movements in association with Directive 05 of the Politburo on promoting Learning and following Ho Chi Minh's ideology, morality and style. Since then, all levels and branches have had positive changes in the emulation and commendation work.
Patriotic emulation movements have made an important contribution to promoting socio-economic development over the past 5 years. The economic structure continues to shift in the right direction. Many targets of the Resolution of the Xth Provincial Party Congress have been achieved and exceeded. Breakthrough programs and key projects have achieved a number of important results. Infrastructure is increasingly completed, the face of rural areas has many innovations. People's lives have been improved. Progress in culture and society has been made, social security has been guaranteed; Defence and security is maintained; social order and safety have been strengthened; The political system is strengthened, consolidated, streamlined, and operational quality improved. The administrative reform has achieved many positive results, creating changes in implementing the inter-agency one-stop shop.
The patriotic emulation movements also contribute to strengthening the block of great unity all the people; improve autonomy and creativity among all classes of people; lively development of new models and factors in almost all fields; contribute to the implementation of Central Resolution 4 (session XII) associated with the Party's regulations on the responsibility to set an example, to study and follow Ho Chi Minh's ideology, morality and style.
With exceptionally excellent achievements through the patriotic front office, in the past 5 years, Long An officials and people have been awarded the First Class Independence Medal by the State; 40 collectives and 50 individuals were awarded the Labor Medal of all grades; 31 collectives were awarded the Government's Emulation Flag; 39 collectives and 271 individuals were awarded certificates of merit from the Prime Minister; thousands of officers and soldiers in the armed forces were awarded with the title of Emulation of Victory and Victory Medal of all grades. From 2015 to 2020, on average, there are nearly 5,600 collectives and individuals recognized with emulation titles and emulation flags and certificates of merit from the provincial People's Committee./.
By Song Nhi – Translated by Duc Tam
Source: https://baolongan.vn/phong-trao-thi-dua-yeu-nuoc-tao-dong-luc-phat-trien-a104677.html