Vice Chairman of Long An Provincial People's Committee - Pham Van Canh checks the prevention and control of African swine fever
Vice Chairman of Long An Provincial People's Committee - Pham Van Canh chaired a meeting session to check the prevention and control of African swine fever (ASF) in the province on March 25.
Vice Chairman of Long An Provincial People's Committee - Pham Van Canh asked to continue propagandizing epidemic safety for breeders and urgently prevent and control epidemics in the area
According to the report of the Ministry of Agriculture and Rural Development from February 1 to March 23, ASF occurred in 379 communes, 75 districts of 21 provinces and cities nationwide. The total number of sick and culled pigs is over 53,570. It is forecasted that the southern central provinces may be infected ASF largely due to the transport of live pigs, pork products and other means of transport from the epidemic areas.
With the above situation over the past time, localities in Long An province have implemented many preventive measures with the goal of actively preventing and responding ASF promptly and effectively. Simultaneously, they work out plans with specific situations that have not discovered epidemics and measures to handle when epidemics occur in the area; they establish temporary quarantine stations (currently 8 ones), 80% of pigs in the province is checked at the quarantine stations before being put into slaughterhouses; they arrange staffs of veterinary, market surveillance, public security and related staffs to strictly control the transport of pigs and pork products to enter the province. In addition, the functional agencies arranged staffs to do duty at throughout the quarantine stations and border gate; strengthen to spray disinfectant and detoxify trucks transporting pigs.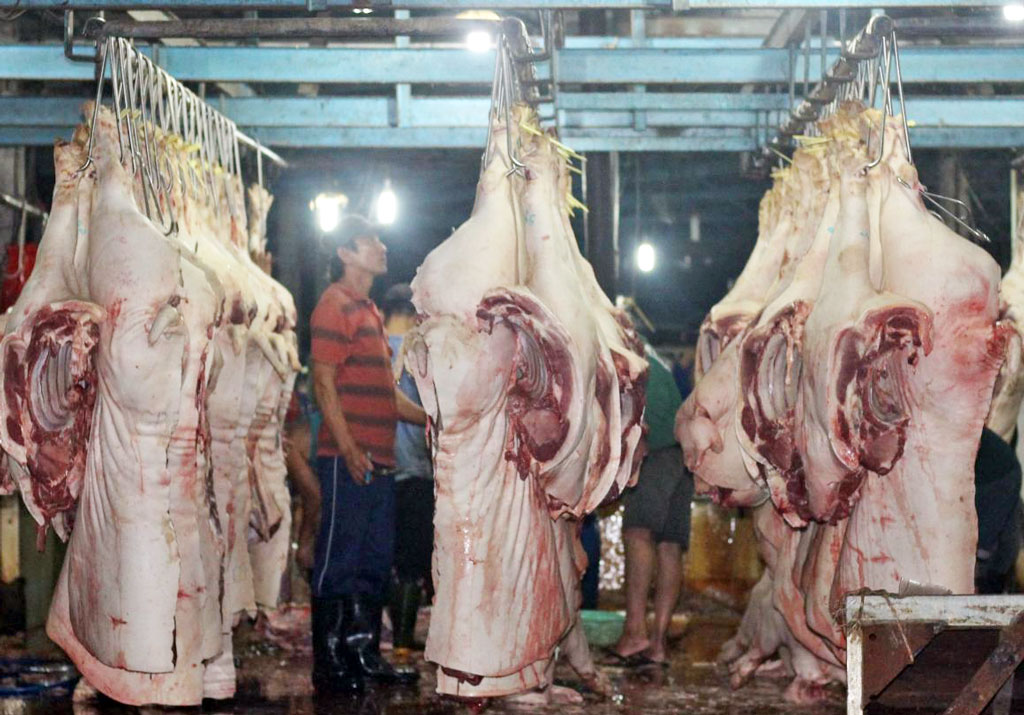 80% of pigs put into slaughterhouses in the province through quarantine stations
According to Deputy Director of Department of Agriculture and Rural Development - Dinh Thi Phuong Khanh, progress of implementing tasks is still difficult. Specifically, it is difficult for functional staffs to stop pig trucks to check at some temporary quarantine stations on National Highway 1. Products processed from pork (such as pork rolls, spring rolls, etc.) or frozen pork do not stop at the station. This is also one of the major sources of epidemic outbreak.
Besides, the local epidemic prevention and control has not been thorough; In the month, there were 2 outbreaks in the province (1 foot and mouth disease outbreak in livestock households Nguyen Thi Hoang, residing in Ward 6, Tan An city; 1 outbreak of blue ear and classic swine fever in households Mr. Doan Van To, living in Que My Thanh commune, Tan Tru district) and foot and mouth disease found in pig trade place in Tan An City and Chau Thanh district.
At the meeting, the Vice Chairman of the Provincial People's Committee - Pham Van Canh asked related agencies to continue to inform and propagandize to farmers about epidemic safety; to regularly clean and disinfect stables, means of transportation and breeding tools. When epidemics occur, it must be immediately reported to the animal health agency and local authorities, to strictly implement Directive No. 06 dated 06/3/2019 of the Provincial People's Committee on synchronous implementation of urgent solutions to control ASF.
Simultaneously, the People's Committees of districts, towns and cities in the province must have reports on the implementation of contents according to Directive 06 (once every 2 weeks) and strengthen the direction of prevention and control of ASF in particular and epidemics on cattle and poultry in general; well implement the vaccination against blue ear disease, foot and mouth disease and the month of disinfection./.
By Huynh Phong – Translated by Duc Tam
Source: http://baolongan.vn/pho-chu-ti-ch-ubnd-ti-nh-long-an-pha-m-van-ca-nh-kie-m-tra-cong-tac-pho-ng-cho-ng-di-ch-ta-heo-a72714.html