Food security is ensured as an important task in any situation
On March 18, the Prime Minister - Nguyen Xuan Phuc, Head of the Central Economic Committee - Nguyen Van Binh co-chaired a national online conference "Summary of 10 years implementing the National Food Security Project by 2020". Deputy Prime Minister - Trinh Dinh Dung also attended the meeting. Secretary of the Provincial Party Committee, Chairman of the Provincial People's Council - Pham Van Ranh; Deputy Secretary of the Provincial Party Committee, Chairman of the Provincial People's Committee - Tran Van Can presided at Long An end-point bridge.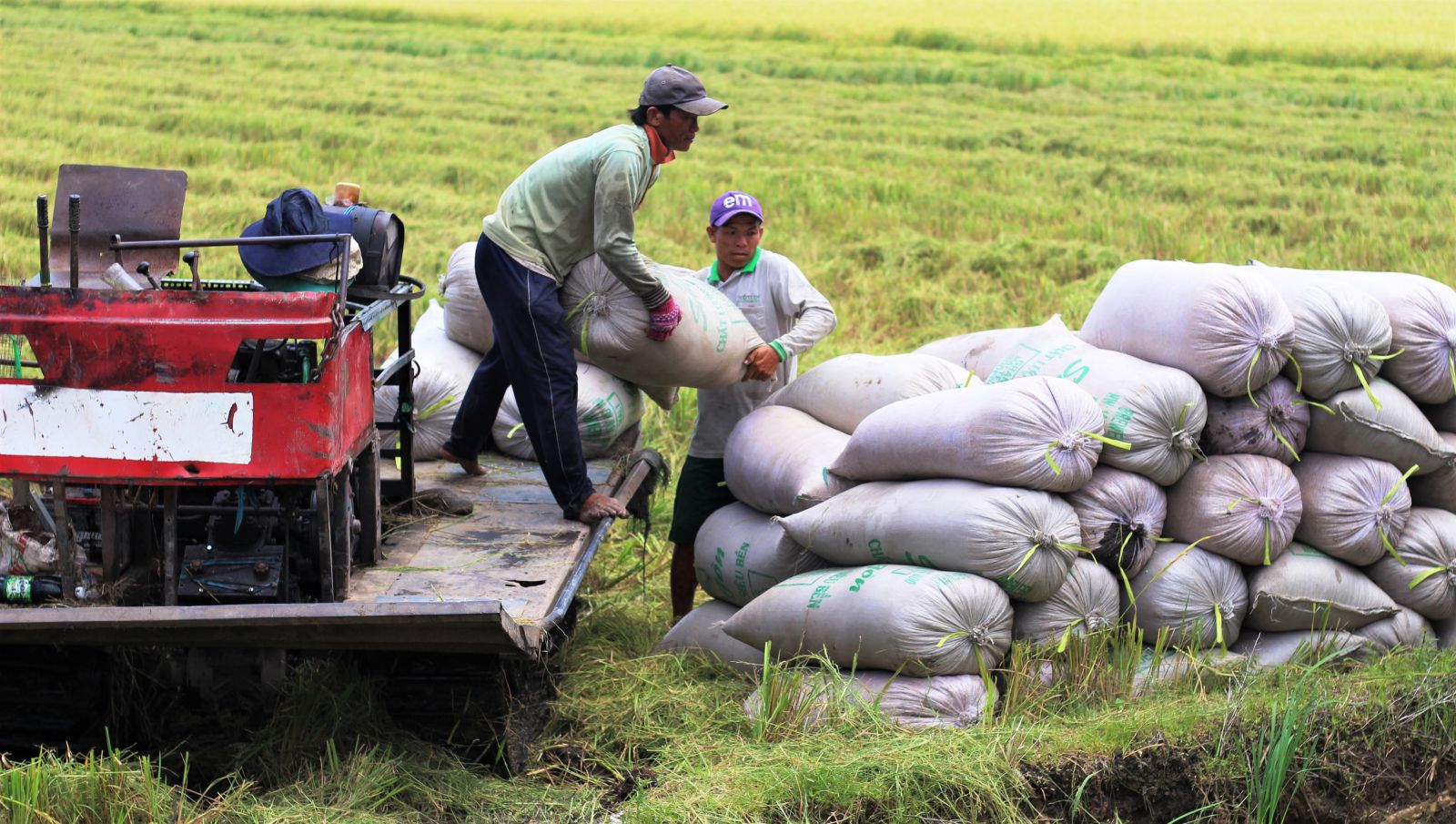 Food security is an important issue for every nation
After 10 years of implementation, the Project has achieved many positive results: 14 targets achieved and exceeded compared to the set targets, of which the remarkable area of rice land nationwide in 2018 reached over 4.12 million hectares (exceeding the set target in the Resolution was 3.76 million hectares); rice production in 2019 reached 43.4 million tons (exceeding the set target of 41 - 43 million tons); rice exports in 2019 reached 6.34 million tons (exceeding the set target of 4 million tons). In the period of 2009-2019, income per capita in rural areas increased by 4.3 times, income gap between urban and rural areas was narrowed from 2.1 times to 1.8 times.
Besides, the Agriculture sector has a relatively high growth rate (reaching 2.61 percent per year). Vietnam's rice productivity is the highest in Southeast Asia, reaching 5.6 tons per hectare, almost double that of Thailand and 1.5 times as much as India. The value and output of many agricultural products both increased sharply (in the period of 2009-2019, the food per capita increased from 497 kilos per year to over 525 kilos per year; the yield of vegetables and fruits increased rapidly by 80.5 percent, from 9, 75 million tons to 17.6 million tons; fruit production increased from 6 million tons to 12.6 million tons). Therefore, Vietnam is able to ensure food self-sufficiency with a relatively high average food output per capita (ranked 6th in the world). Vietnam is the third largest rice exporter in the world, only after India and Thailand, and fourth in Southeast Asia in global food security.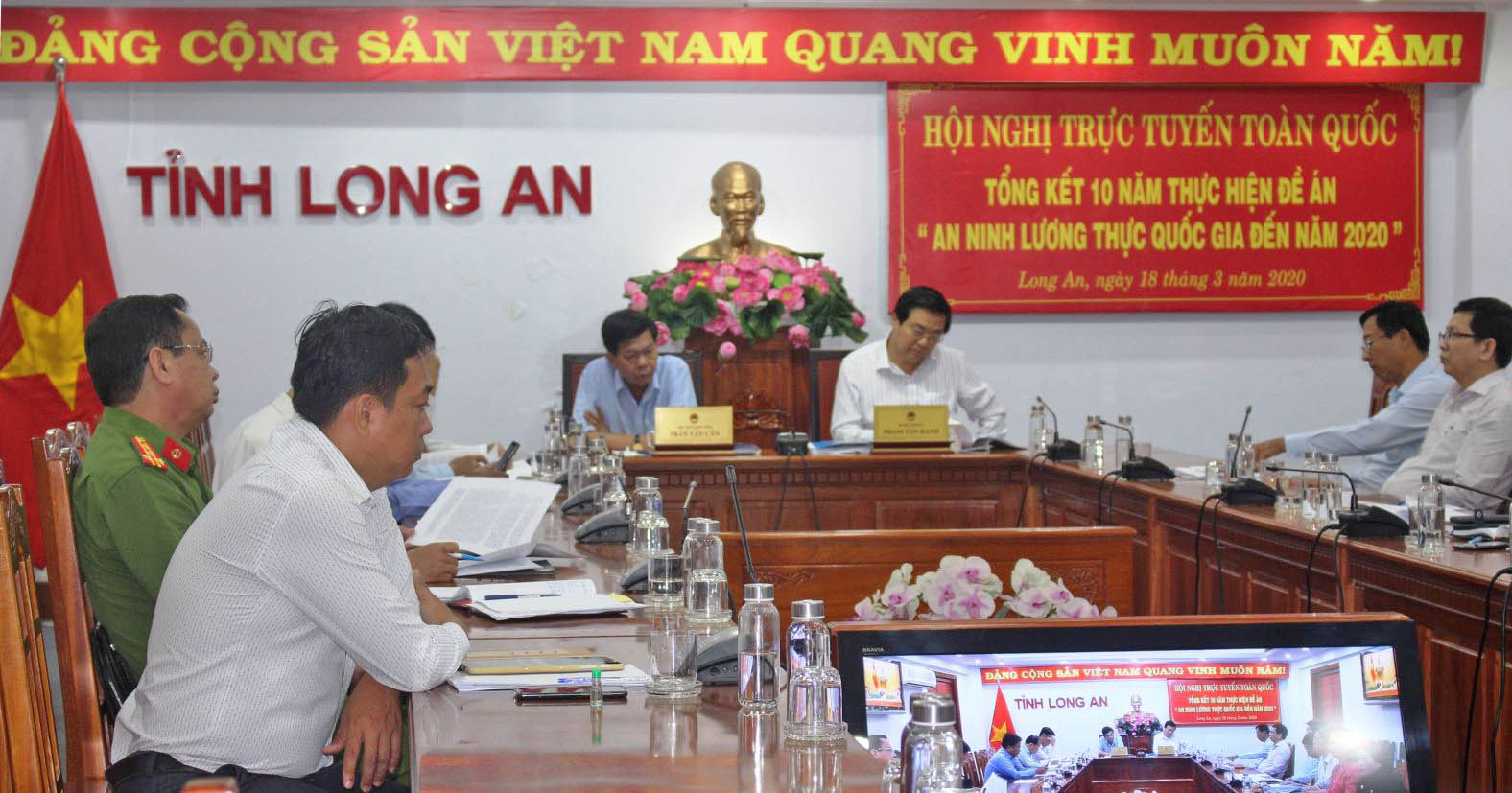 Delegates attend the meeting at Long An end-point bridge
In Long An, after 10 years of implementing Resolution No. 63/NQ-CP on ensuring national food security, the province's socio-economic situation has positive changes, the average growth rate of agriculture, forestry, and fishery in the 2010-2015 period reached 3.9 percent per year and the 2016-2019 period to 2.3 percent; the internal structure of the industry has shifted towards improving quality and efficiency; concentrated agricultural production areas were initially formed.
At the conference, Prime Minister - Nguyen Xuan Phuc emphasized that ensuring food security for the country is an extremely important task in any situation, along with ensuring the minimum necessities for the people. Every year, our country reserves about 300,000 tons of rice to meet food needs.
The Prime Minister said that Vietnam, which used to lack food, is now a major exporter of food globally, as well as being recognized as the best rice quality in the world. At the same time, in the coming time, the Prime Minister proposed that ministries and branches should restructure agricultural and food production structure in a reasonable manner, solving problems of agricultural infrastructure, processing industry, etc. Even if it is necessary to think of nutritious rice for the whole population and for export, "it is not only the quantity but also the quality is considered as the first".
The Prime Minister also noted that ensuring food security is not merely economic, but also social security, including ensuring the supply, nutritional needs and accessibility of people on the food issue. It is fully responsible for any locality to let people lack food./.
By Huynh Phong – Translated by Duc Tam
Source: http://baolongan.vn/bao-dam-an-ninh-luong-thuc-la-nhiem-vu-quan-trong-trong-bat-ky-tinh-huong-nao-a92036.html