Long An Border Guard - Gendarmerie of Pray Veng, Svay Rieng: Talking dialogue
On August 9, the Long An Border Guard held dialogue with the Gendarmerie of Pray Veng and Svay Rieng (Cambodia).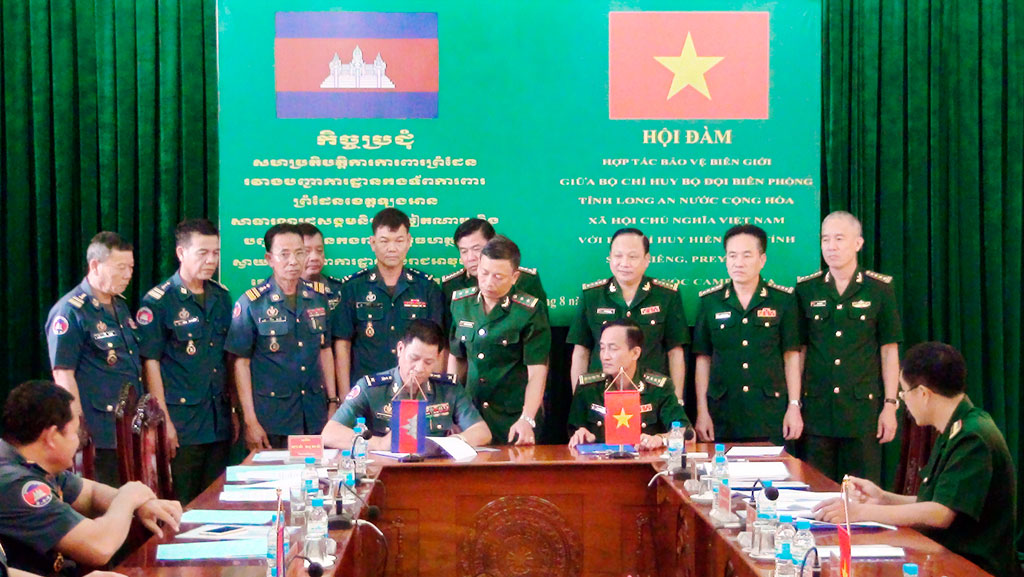 Two leaders signed a Memorandum of Understanding (MOU)
At the meeting, the two sides highly appreciated the close coordination between the armed forces and the authorities, the people sharing the borderline; strengthen information exchange about the situation related to the task of managing and protecting the border, the tricks of hostile forces, crimes, activities against national border system.
At the same time, the two sides proactively coordinate timely, quickly and effectively solve cases on the border, affirm the achievements of the demarcation and milestones; proactively propagate the masses of the two people on the border to raise awareness about the nation and national borderline; etc.
Professional departments and Border Guard coordinate armed forces to organize patrol, control and manage border; promptly detect and handle violations of the Border Regulation, keep security and social order and safety; investigate and prevent crimes, especially organized crimes, cross-border terrorist crimes; prevent illegal cross-border, combat non-traditional security crimes; coordinate in search and rescue in border and inland areas of each country when natural disasters occur; etc.
Promoting the results, the two sides agreed to work in the coming time to strengthen and coordinate more closely in the prevention and control of crimes, especially organized crime, terrorist crime border, prevent illegal cross-border, combat non-traditional security crimes. Actively coordinate functional agencies to promptly detect and prevent epidemics on humans and animals; manage and protect the stability of borders, landmarks and signs on the borderline, not to let the bad guys take advantage, make distort and provoke to divide the solidarity and friendship between the two peoples.
On this occasion, two leaders signed an MOU to show consistency in coordinating the construction of a stable borderline, peace, friendship and mutual development./.
By Minh Luan – Translated by Duc Tam