Standing Deputy Prime Minister - Truong Hoa Binh meets voters in Duc Hue
On October 13, Long An National Assembly Delegation (including Politburo member, Standing Deputy Prime Minister - Truong Hoa Binh; Head of National Assembly Delegation of Long An province, Chairman of the provincial Fatherland Front Committee - Truong Van No; Acting Deputy Director of provincial Department of Justice - Phan Thi My Dung) met voters in 4 communes: My Quy Tay, My Quy Dong, My Thanh Tay, My Thanh Bac (Duc Hue district).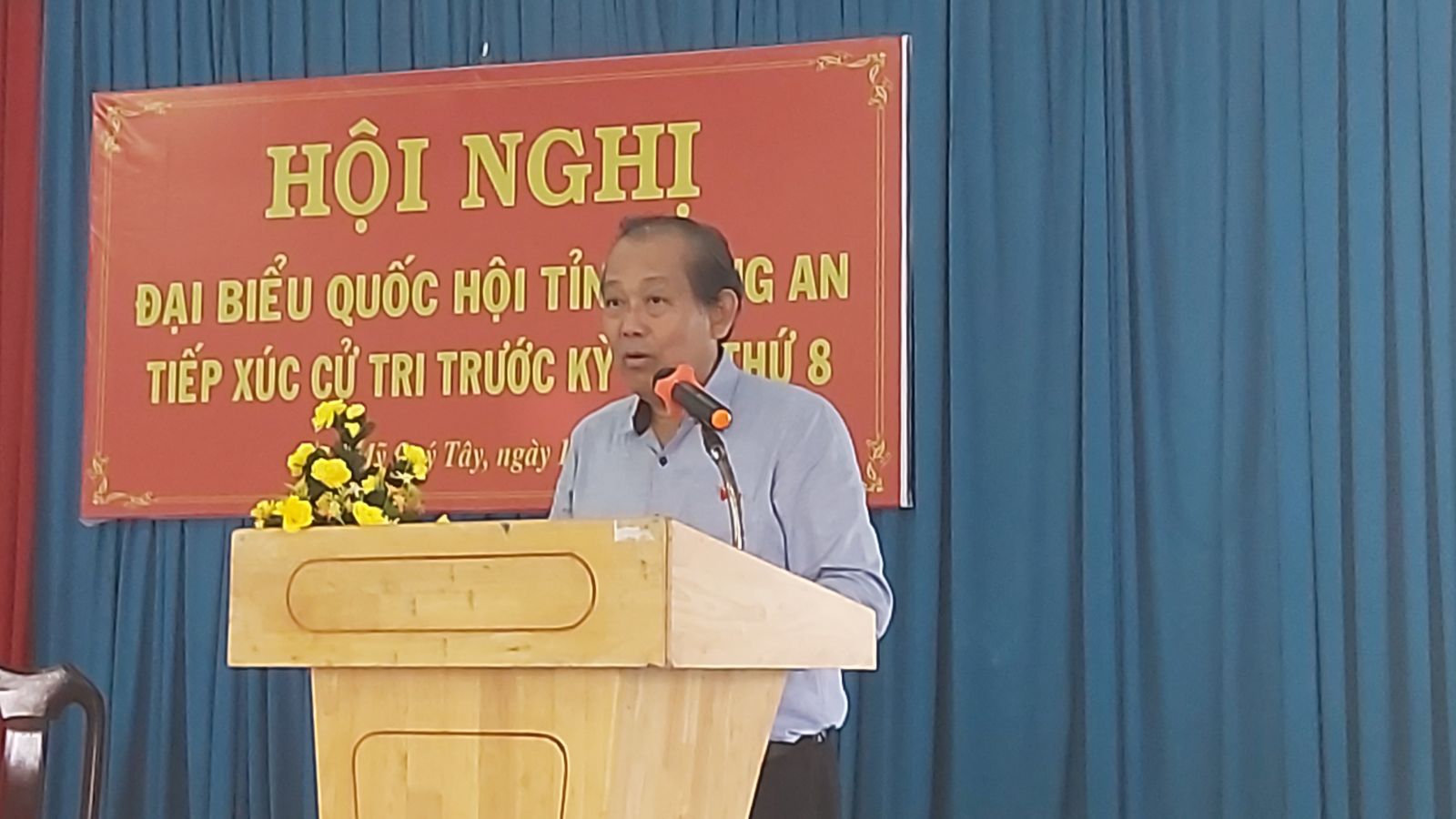 Standing Deputy Prime Minister - Truong Hoa Binh meets voters in Duc Hue district
Voters have many proposals to the National Assembly delegates. Accordingly, Mr. Le Van Cong (in My Quy Tay commune) requested that the functional forces have more effective solutions to prevent and intense the level of penalties for crimes as well as adjust and increase policies for people with meritorious services to the revolution. At the same time, the State should focus on developing transport infrastructure in remote and border areas.
Mr. Phan Van Hiep (in My Quy Tay commune) reflected the increase in prices of agricultural supplies, gasoline while the rice prices were low. He also asked to support the farmers because the disease in pigs has been widespread.
Besides, Mr. Nguyen Van Cu (in My Quy Dong commune) asked to invest in factories to create jobs for people in the border areas. Currently, drug addiction is causing many consequences for society. Therefore, drug addicts should not be considered as patients. At the same time, the authorities should intense the level of punishment for traffic violations, especially alcohol violations.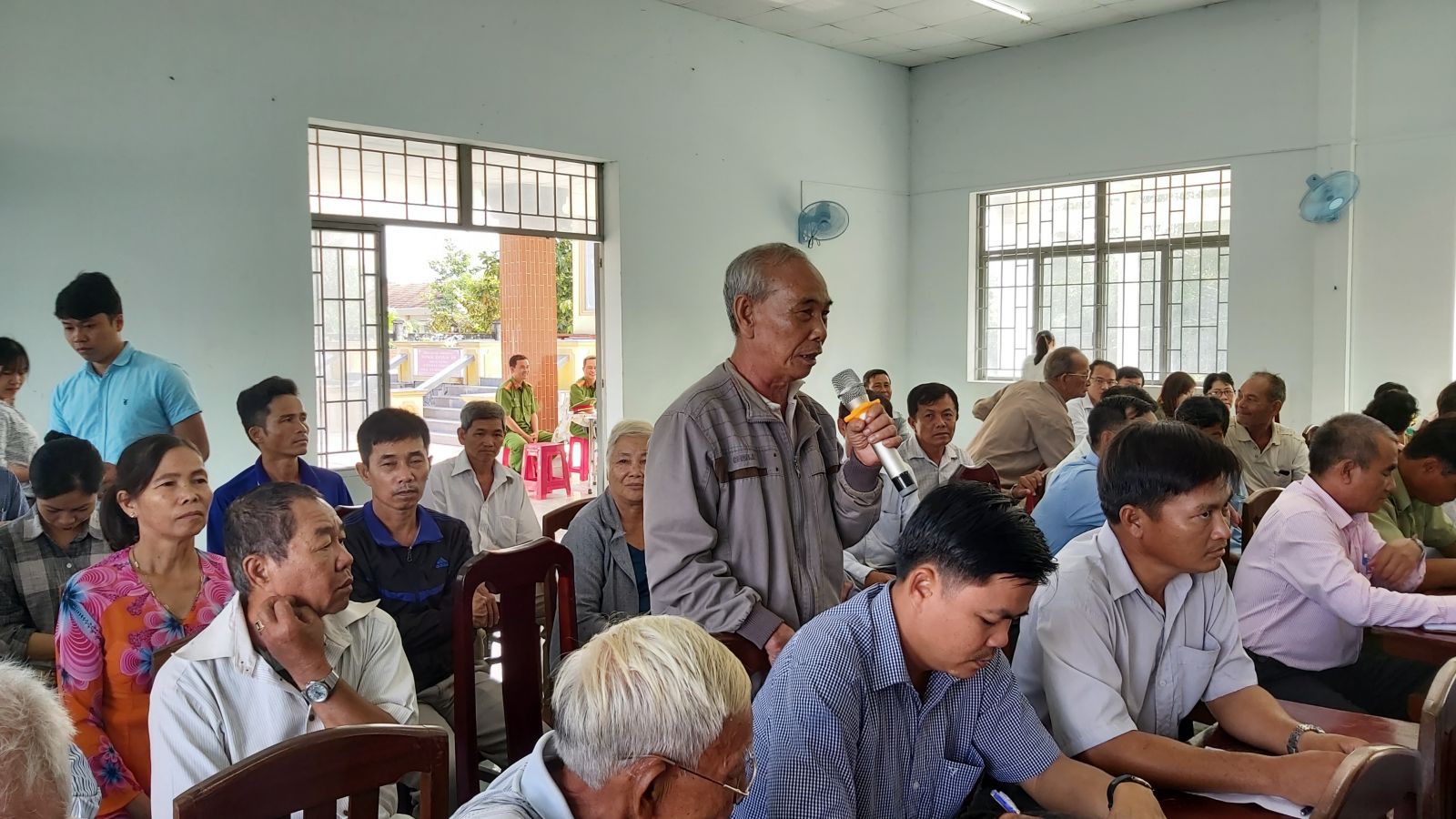 Voters give their opinions
In addition, voters were very pleased with the prevention and fight against corruption. They hope to be provided more information as well as solutions to solve the East Sea situation of our Party and State.
Standing Deputy Prime Minister - Truong Hoa Binh noted the voters' proposals and provided some information on the country's socio-economic results.
Particularly, at present, the anti-corruption is being focused on implementation. Recently, several major corruption cases have been adjudicated. The anti-corruption will continue to be strictly implemented; there are no prohibited areas for anti-corruption. In the East Sea problem, the Party and the State are determined to protect our sovereignty by peaceful means.
In the afternoon of the same day, the National Assembly Delegation continued to meet voters in Thanh Hoa, Thanh Loi and Binh Duc communes (Ben Luc district)./.
By Le Duc - Translated by Pham Ngan
Source: http://baolongan.vn/pho-thu-tuong-thuong-truc-chinh-phu-truong-hoa-binh-tiep-xuc-cu-tri-tai-duc-hue-a83684.html