Long An, Tay Ninh provinces cooperate socio-economic development
A conference to review the socio-economic development cooperation program between Long An and Tay Ninh provinces in the 2009-2018 period and a vision towards 2019-2023 was held on September 28.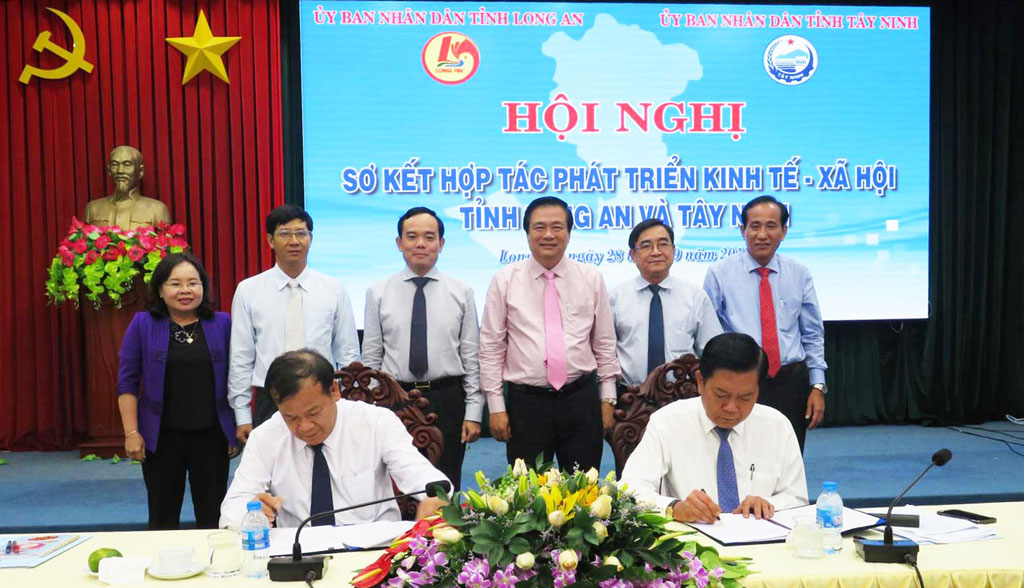 At the conference
Leaders of the two provinces at the event also signed a cooperation agreement in the 2018-2025 period in 10 sectors.
The two sides will continue to improve existing roads linking Long An and Tay Ninh, including 838C, 786, 821 and 787A.
The two provinces will also join hands to implement road maintenance works, meeting the local people's travelling demand.
Additionally, the provinces have proposed the Ministry of Transport about the upgrading project of several inter-provincial roads with national highways.
Speaking at the meeting, Secretary of the Long An Party Committee cum Chairman of People's Council - Pham Van Ranh highlighted efforts of the two provinces and their achievements in the socio-economic development.
The two sides should continue to strengthen the comprehensive cooperation to promote potentials and strong points of localities, contributing to developing the Southern key economic region and meeting the development and integration trend.
The two provinces plan to allocate capital resources to carry out the terms of the agreement, especially transport works, Chairman Ranh added.
Long An and Tay Ninh provinces have made efforts to implement cooperation programs in the fields of agriculture, trade industry, transportation, science and technology, security – defense that have brought notable socio-economic achievements over the past 10 years.
However, the cooperation program has still had some limitations. At the conference, delegates proposed local authorities that the two sides should focus on linking the transport and trade development, prevention and fight against smuggling and illegal sand exploitation, livestock disease management, handling the fast growing water hyacinths on Vam Co Dong River…/.
By Mai Huong - Translated by Pham Ngan